Supercomputers and Quantum Technology
Future Lecture at the TU Hamburg
12.04.2023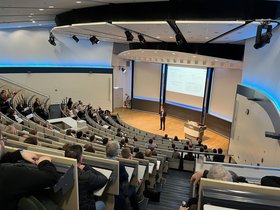 Expectations for quantum computers are high: they are expected to perform calculations and simulations in minutes that take conventional computers months to years. Potential application areas are diverse and range from the development of new materials to the optimization of logistical processes. The goals associated with quantum computing were presented by Professor Martin Kliesch in the Future Lecture "Quantum Computing - Goals and Facts" at the Hamburg University of Technology. The event on April 12, 2023 attracted about 150 interested people to the lecture hall in Audimax II.
With the Future Lecture, Kliesch also simultaneously gave his entry lecture as a new appointee to the Fujitsu Endowed Professorship "Quantum Inspired and Quantum Optimization." He introduced the basic idea of quantum computing, gave an insight into the current status of research and talked about goals and hopes for the future of quantum computing. Kliesch reported, for example, that it is strongly believed that quantum algorithms can be exponentially faster than classical algorithms. However, a high-end quantum computer would not be able to search the Internet particularly quickly. Simulations of nature, on the other hand, he mentioned as a very likely possible field of quantum computing. The field was also examined from an industry perspective. Frank Fehlau, Strategic Account Director at Fujitsu, and Christian Wiebus, Senior Director New Business and Innovation at NXP Semiconductors, provided insights into the potential of quantum computing and showed what role Hamburg plays as a location for this future technology. Fujitsu representative Fehlau emphasized on Wednesday that the endowed professorship has a high degree of industry relevance. "Especially for research and development projects, it is necessary to have strong scientific partners at your side," Fehlau said. Wiebus addressed ion traps as one of NXP's development areas.

At the subsequent get-together, there was also a poster exhibition of thematically relevant research work at TU Hamburg.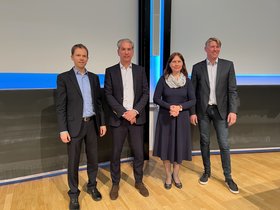 For more information, visit https://www.tuhh.de/quantum/welcome
---
TUHH - Public Relations Office
Lena Bender
E-Mail: lena.bender@tuhh.de