Ressourcen, Recycling und Klimaschutz
DGAW-Wissenschaftskongress "Abfall- und Ressourcenwirtschaft" an der TU Hamburg
10.03.2023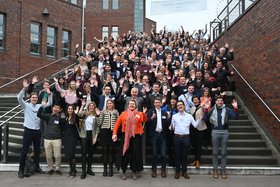 Am 9. und 10. März fand an der Technischen Universität Hamburg der 12. Wissenschaftskongress "Abfall- und Ressourcenwirtschaft" der Deutschen Gesellschaft für Abfallwirtschaft (DGAW) statt. Die Gastgeber∗innen Prof. Kerstin Kuchta vom Institute of Circular Resource and Managemen (CREM) der TU Hamburg und Prof. Rüdiger Siechau von der Stadtreinigung Hamburg begrüßten rund 160 Teilnehmer∗innen aus Deutschland und Österreich auf dem Campus der TU Hamburg. Der Kongress wendet sich gezielt an den wissenschaftlichen Nachwuchs.
In 20 Vorträgen und 50 Posterpräsentationen konnten junge Forschende neuste Ergebnisse aus ihren abgeschlossenen Masterarbeiten und aktuellen Dissertationen vorstellen. "Vor allem junge Menschen engagieren sich in der Forschung mit visionären und innovativen Fragestellungen und Lösungsansätzen und leisten damit einen wichtigen Beitrag zur gesellschaftlichen Fortentwicklung. Die Förderung der jungen Wissenschaft ist entscheidend, um die anstehenden globalen Herausforderungen, insbesondere in den Bereichen Ressourcen, Recycling und Klimaschutz zu lösen", sagt Kuchta. Der Kongress dient dem Austausch von Wissenschaft und Praxis und fördert die Netzwerkbildung.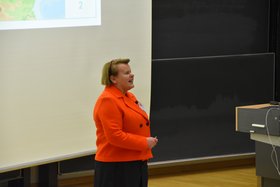 Programm abseits des Hörsaals
Neben dem wissenschaftlichen Austausch spielte auch Netzwerken und wissenschaftliche Nachwuchsförderung eine entscheidende Rolle. Aus diesem Grunde wurde der Kongress von zwei entsprechenden Abendveranstaltungen flankiert. Bereits am 8. März 2023 empfingen die Young Professionals der Stadtreinigung Hamburg die jungen Forschenden auf dem Energieberg Georgswerder, um sich fachlich auszutauschen und über Karrieremöglichkeiten in der Abfall- und Recyclingwirtschaft zu diskutieren. Am 9. März lud die Stadtreinigung Hamburg zur "Afterhour in Orange - Abendveranstaltung" auf ihrem Betriebsgelände ein. Dort trafen erfahrene Praktiker∗innen auf den jungen wissenschaftlichen Nachwuchs.
Über den Kongress
Seit zwölf Jahren treffen sich Vertreter∗innen aus Wissenschaft und Praxis auf dem DGAW-Wissenschaftskongress, um sich über die aktuelle Forschung auf dem Gebiet der Abfall- und Ressourcenwirtschaft auszutauschen. Dieses Jahr lud das Institut CREM (Institute of Circular Resource Engineering and Management) der TU Hamburg ins Audimax II ein. Das Institut unter Leitung von Prof. Kerstin Kuchta behandelt beherrschende Themen der Abfall- und Ressourcenwirtschaft in enger Zusammenarbeit mit der Stadtreinigung in Hamburg.
Mehr Informationen unter https://www.dgaw.de/veranstaltung/wissenschaftskongress
---
TUHH - Public Relations Office
Lena Bender
E-Mail: lena.bender@tuhh.de