The robots are on the loose
NORDMETALL RoboCup Junior Tournament on February 25 and 26 at the TU Hamburg
23.02.2023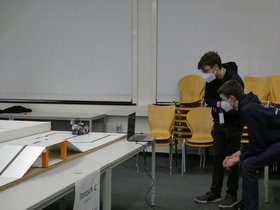 Recovery missions and dancing robots - at the NORDMETALL RoboCup Junior qualification at the Hamburg University of Technology, robots will compete against each other in various disciplines. On February 25 and 26, 2023, around 60 students from all over northern Germany will show what their self-developed robots can do. RoboCup Junior is a qualification tournament within the framework of the international RoboCup. The event is open to interested parties from 11 a.m. to 5 p.m. on both days and is free of charge. The award ceremony will take place on Sunday at 16:30.
Robots on the course and on the dance floor
In the RoboCup Junior tournament, various disciplines will be offered again this year: In the rescue competition "Rescue Line", the robots run through a challenging course and provide assistance in a rescue scenario. To do this, they have to independently follow a line, master intersections, climb ramps, drive around obstacles and, at the end, find and rescue injured people. The tasks are based on challenges that also have to be mastered by real search and rescue robots. In the "OnStage" discipline, robots present a dance performance with specially developed choreography in time to the music or tell a story they have developed themselves. Points are awarded for various sections, subtasks and requirements. The best teams qualify for the German championship of the RoboCup Junior competition at the end of April in Kassel.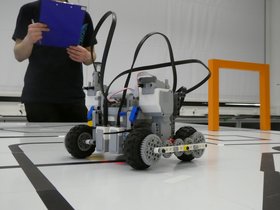 About RoboCup
The largest competition for intelligent robots is one of the world's most important technology events in research and education. RoboCup's international junior competition is RoboCup Junior. The robotics competition is open to students between the ages of 10 and 19. RoboCup Junior tournaments have been held annually in Germany since 2001. TU Hamburg is the qualifying site for northern Germany for the fifth time.
More information: https://dual.tuhh.de/robocup-junior
What? NORDMETALL RoboCup Junior Tournament
When? February 25 and 26, 2023
Where? TU Hamburg, Building C/D, Am Schwarzenberg-Campus 4, 21073 Hamburg, Germany
---
TUHH - Public Relations Office
Lena Bender
E-Mail: lena.bender@tuhh.de