Five Art at the TU Hamburg
New exhibition of artist community
13.01.2023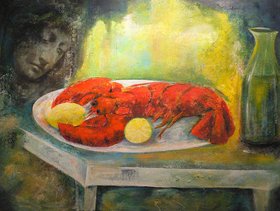 Ink drawings, colored pencil paintings and acrylic landscapes. In a joint exhibition of the artist community "Five Art", the artworks of no less than five artists can be marveled at in the main building of the Technical University of Hamburg. In "Universialien", art enthusiasts can marvel at large-format landscape paintings and colorful drawings. On February 4, those interested can take part in a guided tour of the exhibition. To close the exhibition, a finissage will be held on March 23.
Vast landscapes, red lobsters and party hats
The exhibition is particularly convincing because of its diversity. Although the artists support each other and critically discuss their art, they do not paint or draw their works together, but each separately in the studio, the apartment or even in nature. For this reason, the different styles can be seen particularly strongly in the exhibition. While Willi Austrup creates colorful and nuanced pictorial worlds with colored pencil drawings, Peter Koch uses mainly acrylic paints for his landscape paintings. His trick: by adding surprising elements, such as a sheep in a party hat, his works take a turn for the comical or surreal. Gerhard Nancken's paintings also show landscapes and the alternation of light and shadow. He prefers to use ink and pen for his motifs. Artist Chris S. Kanavc focuses on a very specific motif in her works: the lobster. "For me, the lobster represents strength - survival at any cost. I like to experiment with colors, materials, my dreams and the realistic thoughts. This often results in paintings that tell stories," Kanavc says. The fifth in the group is Susanne Völz. Her paintings are abstract, made of lines, surfaces and colors, but also true to nature, as in her work "Two cows grazing."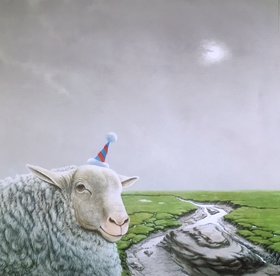 Art at the TU Hamburg
The art initiative has set itself the goal of bringing Hamburg's art and cultural scene closer to the students and staff of the TU Hamburg and, to this end, offers various guided tours and changing exhibitions. In this way, the TU has established itself as an integral part of Hamburg's cultural scene.
Further information at:
https://www2.tuhh.de/kunstinitiative/archive/1271
What? exhibition "Universialien
Where? Main building of the TU Hamburg
When? Until March 31, 2023
Tour on February 4, 2023, starting at 2 p.m. with the artists
Finissage on March 23, 2023, 6 p.m., Building A, 3rd floor
---
TUHH - Public Relations Office
Lena Bender
E-Mail: lena.bender@tuhh.de