Protecting the oceans and using them sustainably
Future Lecture at the TU Hamburg
05.01.2023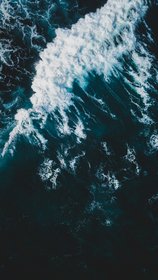 The oceans cover 71 percent of the Earth's surface and provide a livelihood for more than three billion people through fisheries. They also play an essential role in a wide range of economic activities: Trade, energy transport, tourism, fossil fuels, oil and gas, and increasingly renewable energy. At the same time, numerous global challenges such as pollution, overfishing, and global climate change are putting stress on the ocean ecosystem. As part of the Future Lecture "The UN Ocean Decade in Germany and its Opportunities" at the Technical University of Hamburg, Dr. Steffen Knodt, head of the Center for Sustainable Ocean Businnes at Fraunhofer IGD, will present his research activities. Afterwards, Professor Sören Ehlers, Director of the DLR Institute for Maritime Energy Systems, will speak about research and development of innovative solutions for emission reduction in shipping.
The UN Ocean Decade
Dr. Steffen Knodt heads the Center for Sustainable Ocean Business at Fraunhofer IGD in Rostock and Lübeck and is an expert on Sustainable Blue Economy. The engineer, who holds a PhD from RWTH Aachen University, is also on the board of the German Committee of the UN Decade of Ocean Research for Sustainable Development. Under the motto "The Ocean We Need. For the Future We Want," this aims to strengthen international cooperation and promote scientific research and innovative technologies to connect ocean science with the needs of society. In this way, solutions for the protection and sustainable use of the ocean will be implemented across disciplines and countries. In his presentation, Dr. Steffen Knodt will introduce the mission and organization of the UN Ocean Decade. Using current projects and initiatives, he will show how the goals can also be supported individually.
Advancing green shipping
Professor Sören Ehlers is the former head of the Institute of Naval Architecture and Ship Strength at Hamburg University of Technology and, since January 1, 2022, the new director of the DLR Institute for Maritime Energy Systems. There, he researches and develops innovative solutions for reducing emissions from shipping and takes into account the entire energy conversion chain of maritime applications. In the future, green hydrogen is to be the basis for a sustainable alternative where heavy fuel oil is still used today. Preferably, it should enable the familiar convenience of long ranges and fast refueling. But refueling ships with hydrogen still poses a special challenge to logistics and energy infrastructure.
Future Lecture "The UN Ocean Decade in Germany and its opportunities".
When: Wednesday, Jan. 11, 2023, starting at 5 p.m.
Where: Audimax II
Registration for participation in presence: https://intranet.tuhh.de/anmeldung/futurelectureamtpraesenz

The event will also be broadcast online. Link to registration: https://intranet.tuhh.de/anmeldung/futurelectureamtonline
---
TUHH - Public Relations Office
Franziska Trede
E-Mail: franziska.trede@tuhh.de
Phone: +49 40 428 78 3458