Off to a new stage in life
Graduation and promotion ceremony of the TU Hamburg
19.12.2022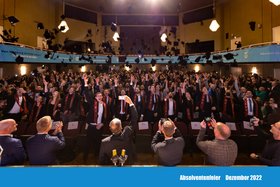 232 graduates of the Hamburg University of Technology were bid farewell and personally received their certificates at the graduation ceremony on December 16, 2022. The ceremony took place with about 1,000 guests in the Friedrich-Ebert-Halle.
Dressed in academic attire, with traditional sashes and hats, the graduates from 18 countries filed into Harburg's Friedrich-Ebert-Halle to sustained applause from their families and friends. There they received their certificates for Bachelor of Science, Master of Science and doctorate degrees in engineering. A total of 556 students, including 43 doctoral candidates, graduated from TU Hamburg.
The President of TU Hamburg, Andreas Timm-Giel, welcomed the auditorium and congratulated the students on their degrees: "With your degree from TU Hamburg, you are excellently prepared for further study, doctoral studies or work in industry. You can shape your future and ours: Improve the world for people with technological solutions and contribute to solving humanity's great challenges." Norbert Basler, founder and chairman of the supervisory board of Basler AG, then spoke. In his keynote speech, he praised the excellent and future-oriented range of courses offered by the TU Hamburg and emphasized the importance of international cooperation. To the graduates, he said, "The world needs capable and responsible young people like you to effectively and sustainably address and overcome the challenges of the future and present."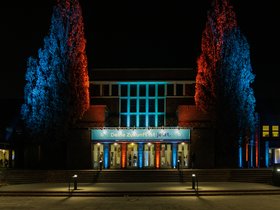 The highlight of the event was the presentation of certificates to the 232 key players of the evening. Each graduate was invited on stage by name and honored with a certificate by the respective deans and examination board chairs as well as the celebration organizer Bärbel Müller. The evening was accompanied by the TU Hamburg Orchestra SymphonING under the direction of conductor Erik Lamprecht. Alumni coordinator Vera Lindenlaub and Kristin Schreiber, Alumni and Community Manager of the Northern Institute of Technology (NIT), moderated the event.

---
TUHH - Public Relations Office
Franziska Trede
E-Mail: franziska.trede@tuhh.de
Phone: +49 40 428 78 3458