Real laboratory for the energy transition
Joint declaration of intent between TU Hamburg and Hamburger Energiewerke
09.11.2022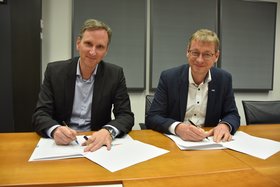 Smart, modern, environmentally friendly: In its climate plan, the Hamburg Senate has formulated the guiding vision for Hamburg as a city fit for the future and adaptable to the consequences of climate change. Hamburg University of Technology and Hamburger Energiewerke support the Senate's goals. As part of a long-term cooperation, the necessary scientific and technical innovations are to be developed and evaluated for practical use in a real laboratory on the TU Hamburg campus.
Katharina Fegebank, Senator for Science, Research, Equality and Districts: "Climate change is the great challenge of our time. We are all called upon to shape and advance the energy transition. That is why I am very pleased that the Technical University of Hamburg is cooperating with the Hamburger Energiewerke to jointly shed light on the technical and economic challenges of the energy transition. In particular, the affiliated real laboratory can be a driver for innovation: Here, students gain know-how and can evaluate research results in practical applications. I am certain that the holistic energy concept will strengthen the campus and is an important further development of the TU Hamburg."
Andreas Timm-Giel, President of TU Hamburg: "The cooperation with Hamburger Energiewerke is a consistent step in the further development of our TU Hamburg. Our jointly declared goal is to exemplify the energy transition on our campus. Students should learn technologies for the energy transition on campus and apply the latest research results. The campus should be experienced as a real laboratory and also be shown to the public. In addition, we will show that urgent changes for the sake of the climate and society can succeed in close cooperation between science, business and politics."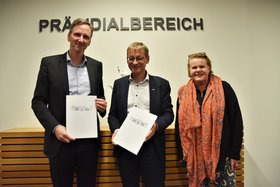 Michael Prinz, Managing Director of Hamburger Energiewerke GmbH: "The energy and heat turnaround is one of the biggest transformation projects of our time. For this, we need innovative spirit and research. We are therefore very pleased if we can inspire students for this topic and support the TU Hamburg in supplying its campus with climate-neutral energy."
From the real laboratory to the metropolitan region
The partnership cooperation envisages driving forward the energy turnaround based on renewable energies. In addition to the installation of photovoltaic systems and heat pumps on the campus of the Hamburg University of Technology, hydrogen is also to be provided for the operation of a combined heat and power plant. Scientists will thus have the opportunity to initiate new developments and research projects. These include so-called smart energy systems for the operation of networked energy systems with the integration of electromobility, as well as innovative storage solutions in the form of aquifer storage. The real laboratory also enables students to apply their knowledge in practice and train them to become designers of the future. Public formats, such as lecture series, workshops and open labs, also bring the Reallabor closer to Hamburg's citizens with the aim of raising awareness of the energy transition in the metropolitan region.
Hamburger Energiewerke is a merger of the municipal companies Hamburg Energie and Wärme Hamburg. The company supplies more than 160,000 customers in the Hanseatic city with electricity and gas and provides around 25 percent of Hamburg's useful heat. Around 850 employees at Hamburger Energiewerke are committed to the success of the energy and heat turnaround. The company makes the largest single contribution to achieving Hamburg's climate targets. www.hamburger-energiewerke.de

Press contact Hamburger Energiewerke GmbH:
Bettina Schwarz
Corporate Communications
Bettina.Schwarz@hamburger-energiewerke.de
Phone +49 40 6396 2733

---
TUHH - Public Relations Office
Franziska Trede
E-Mail: franziska.trede@tuhh.de
Phone: +49 40 428 78 3458