Giving young people from Ukraine orientation
TU student Oleksandra Riabova receives DAAD award
04.11.2022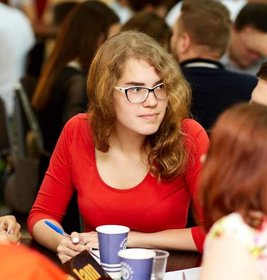 "Little things make big things happen" is the motto of Oleksandra Riabova. The Ukrainian-born student of the Joint Master "Interdisciplinary Mathematics" at the Technical University of Hamburg has already been doing a lot for her home country before, but especially after the Russian war of aggression. As a mentor and organizer, she was part of various projects in Odessa to give young people support and orientation. During her studies in Hamburg, she subsequently became involved in aid projects for refugees. She produced radio reports for Ukrainian news stations and worked to develop an app to support the logistics of aid transports to Ukraine. On the TU Hamburg campus, she now wants to introduce the Ukrainian language and culture to all interested members of the university. For her social and intercultural commitment, Oleksandra Riabova received this year's award from the German Academic Exchange Service (DAAD) and prize money of 900 euros.
"I would like to use the knowledge I am currently acquiring at TU Hamburg to contribute to the automation of certain processes. On the one hand, to gain a technical advance and, on the other hand, to build a stronger international society. I will therefore combine my professional career with international and social activities that promote exchange between people around the world," says the DAAD award winner, describing her plans for the future.
The DAAD awards the prize annually to foreign students for good academic performance and social and intercultural commitment. The aim of the award is to promote internationality at universities and a joint exchange between students.

---
TUHH - Public Relations Office
Franziska Trede
E-Mail: franziska.trede@tuhh.de
Phone: +49 40 428 78 3458