Students solve challenges of our time
ECIU University enables "Challenges" across national borders
19.10.2022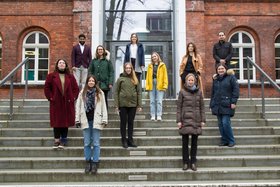 How do you improve access to drinking water for the world's population? Can plastic be the solution if plastics are recycled more effectively? What ideas make public space more usable for people? Within the framework of so-called challenges, students have the opportunity to work with researchers, cities or even companies on real challenges and to put their theoretical knowledge into practice. Together with thirteen other universities, the Technical University of Hamburg is forming the first European university for this purpose, the ECIU University. The aim of the alliance is to strengthen international cooperation and develop sustainable solutions.
On the way to a climate-neutral campus
Just how future-oriented the idea behind ECIU University is is demonstrated by the successful Strategic Challenge of the TU Hamburg. Within six months, students from Italy, Portugal, Sweden, Lithuania, Norway, Ireland and Germany developed various approaches for a climate-neutral campus in Europe. The kick-off meeting was held on the TU Hamburg campus, followed by regular online meetings. In these, students developed concepts for more efficient travel through the use of digital technology, through sustainable buildings and infrastructure, to best practices for how climate action plans can be lived out more transparently at universities. "We are excited and impressed by the students' results and their active engagement," says Dr. Nadine Stahlberg, coordinator of the Strategic Challenge at TU Hamburg. Dublin City University student Shannen Plunkett also gives a positive assessment of her participation: "I met like-minded people and was able to develop academically as well as personally."
Online info sessions on the registration process for ECIU Challenges and for general questions will take place on 10.11.2022, 02.12.2022, 13.01.2023 from 12:15-13:00 each: https://tuhh.zoom.us/j/82 … wTWNmcmdDcVVNWENRZHpWQT09
More challenges of all universities can be found on the ECIU University Challenge Platform: https://challenges.eciu.org/challenges/
---
TUHH - Public Relations Office
Franziska Trede
E-Mail: franziska.trede@tuhh.de
Phone: +49 40 428 78 3458