From the classroom to the lecture hall
TU Hamburg welcomes freshmen
14.10.2022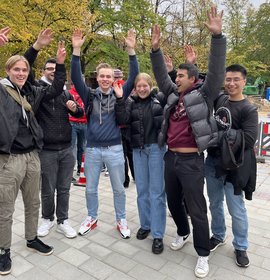 Motivated and full of drive, around 1,100 first-year students will start a bachelor's degree at Hamburg University of Technology in the winter semester 2022/23. Among them are more than 300 international students, for whom TU Hamburg is highly attractive with its modern teaching methods and interdisciplinary research. The proportion of women is around 27 percent. The highest number of applicants is registered in the courses of industrial engineering and civil and environmental engineering, closely followed by mechanical engineering and computer science.
At the semester opening ceremony in the Friedrich Ebert Hall, TU President Andreas Timm-Giel solemnly welcomed the majority of the new Bachelor students: "Engineers are urgently needed to meet challenges such as climate change, energy security or the mobility revolution. Let's shape the future together - as a graduate of TU Hamburg, you have all the knowledge it takes."
During the colorful celebration, information was provided about new teaching formats, the interdisciplinary bachelor's project, and service and advisory offerings for students, among other things. The Startup Port startup incubator, university sports and the AGs of the General Students' Committee AStA also introduced themselves before the freshmen were released into their student lives with the song "Happy." On October 21, 2022, the new Master and exchange students will be welcomed in the Audimax of the TU Hamburg.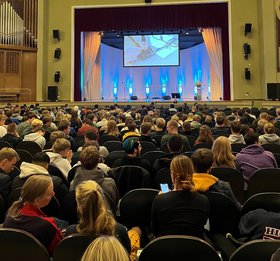 To kick things off, the new students received vouchers for the popular TU first-semester bag, packed with useful giveaways and perks. The bags will be presented to students on Tuesday, October 18, 2022, from 2:00 to 6:00 p.m. at Harburger-Lämmertwiete. The campaign is financially supported by representatives of the Phoenix-Center, Sparkasse Harburg-Buxtehude, Harburg Marketing and TU Hamburg.
---
TUHH - Public Relations Office
Franziska Trede
E-Mail: franziska.trede@tuhh.de
Phone: +49 40 428 78 3458