Above the (simulated) clouds
Flight training at the TU Hamburg
22.09.2022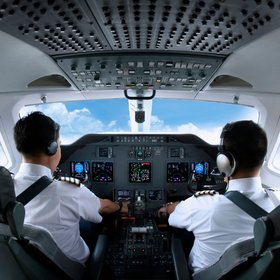 How do pilots learn to fly? Under the heading FlightSimming@TUHH, the Technical University of Hamburg and the German branch of the "Virtual Air Traffic Simulation Network" (VATSIM) show what the working world of pilots looks like. All those who would like to take a virtual flight simulator to the lofty heights are cordially invited to attend on October 1 from 2 to 10 pm. Admission is free.
VATSIM offers an insight into the work of pilots and air traffic controllers. Flight simulators are connected in a worldwide network. Flight simulator pilots, including many professional pilots, can be accompanied by air traffic controllers through virtual airspace. At the FlightSimmING event, interested parties can learn about the technical possibilities and also try out a flight simulator themselves under expert guidance.
Flight simulators are used for a variety of purposes: For pilots in professional aviation, the use of simulators is part of the training to practice instrument flight ("blind flight") as well as dangerous situations. In research, simulators are used, for example, to adapt newly developed assistance systems to the human user.
When: October 1 from 2 to 2 p.m.
Where: TU Hamburg, Institute for Air Transport Systems (Blohmstraße 20, 21079 Hamburg)
Admission is free, registration is not required.
---
TUHH - Public Relations Office
Franziska Trede
E-Mail: franziska.trede@tuhh.de
Phone: +49 40 428 78 3458