New Member of the University Council of the TU Hamburg
20.09.2022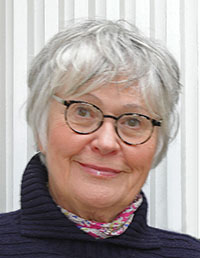 Hamburg University of Technology has a new member on the University Council. Professor Ellen Ivers-Tiffée, Distinguished Senior Fellow at the Karlsruhe Institute of Technology (KIT), has been nominated by the Authority for Science, Research, Equality and Districts. She succeeds Sibylle Stauch-Eckmann and will hold her post until April 2024.
Ellen Ivers-Tiffée moved to research at Siemens AG Munich in 1980 after completing her doctorate in materials science at the University of Erlangen (FAU). After her appointment in 1996 to what is now the Karlsruhe Institute of Technology (KIT), she headed the later Institute for Applied Materials - Electrochemical Technologies until her retirement in 2019. In international research projects, she pursued the goal of advancing the energy transition and sustainably strengthening electromobility. Prof. Ivers-Tiffée continues to be active as a reviewer for the Japan Society for the Promotion of Science (JSPS), a senator of the German Research Foundation (DFG), a member of the German Academy of Sciences Leopoldina and the German Academy of Science and Engineering (acatech). She lives with her husband in Karlsruhe and has a grown-up daughter.
The TU Hamburg University Council also includes:
The chairman of the TU University Council, Walter Conrads, was chairman of the supervisory board of Philips GmbH. In 2005, the engineer, who comes from Bad Kösen in Saxony-Anhalt, was awarded the Federal Cross of Merit, First Class, in Hamburg for his "exemplary achievements in his profession and honorary office." The industry manager has headed the University Council since it was founded in 2003.
Professor Kathrin Fischer heads the TU Institute for Quantitative Business Research and Business Informatics. She studied mathematics and was, among other things, Professor of Management Science and Operational Research at Aston Business School, Aston University, Birmingham, UK, and of Business Administration, in particular Logistics and Supply Chain Management, at the Vienna University of Economics and Business.
As Chief Technology Officer (CTO) at NXP Semiconductors, Lars Reger is responsible for the development of new business areas and R&D in the focus markets Automotive, Industry 4.0, Internet of Things, Mobile, Communications & Infrastructure. Since December 2018, Reger has had overall responsibility for NXP's technology portfolio. Since April 2019, he has been a member of the board of the BDI committee Digital Economy, Telecommunications and Media. Reger succeeds Michael Westhagemann, who is now Senator for Economic Affairs of the Free and Hanseatic City of Hamburg.
Professor Stefan Palzer is CTO at Nestlé, responsible for the global development of nutritious, healthy, sustainable and affordable food and beverage innovations. After studying food technology at the Technical University of Munich, Palzer earned his doctorate and habilitation there in the field of process engineering. In addition, the food engineer is an associate professor of food science and technology at the University of Copenhagen (Denmark), honorary professor of food technology at the University of Stuttgart-Hohenheim, professor of process engineering at the Technical University of Hamburg, and visiting professor of chemical engineering at the University of Sheffield (United Kingdom).
---
TUHH - Public Relations Office
Franziska Trede
E-Mail: franziska.trede@tuhh.de
Phone: +49 40 428 78 3458