Leading the way for society
TU Hamburg students receive science awards
30.06.2022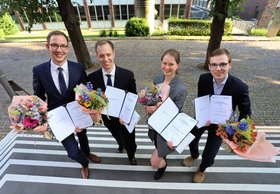 Sustainable and innovative: Jana Langholz, Bartosz Tegowski, Dr. Jens Johannsen and Dr. Maximilian Stark are this year's winners of the Gisela and Erwin Sick Foundation's science prizes totaling 10,000 euros. This is the eighth time that the Gisela and Erwin Sick Foundation has honored outstanding young scientists at the Technical University of Hamburg. Special recognition is given to the development of innovative solutions in the field of occupational safety and environmental protection in industry and logistics.
The winners of the Gisela and Erwin Sick Foundation Science Awards:
Jana Langholz (prize money 1,000 euros).
As part of her bachelor's thesis, the TU student researched an innovative tumor implant that can be used to continuously monitor tumors. The aim of the work is to improve the treatment of patients by using the implant to optimally adjust medication during the course of therapy. Using mathematical models, experiments and simulations, Jana Langholz developed an optimal energy supply for the implant, regardless of where it is placed in the body and how the surrounding tissue changes.
Bartosz Tegowski (prize money 3,000 euros)
From surveying the earth, to weather forecasts, to motion detectors: Wireless radio-frequency positioning and radar systems are in a wide range of applications. Essential to these systems is the antenna. It is used to transmit and receive electromagnetic waves. If, for example, the distance of the electromagnetic wave between the transmitting and receiving antenna is to be measured, the origin of the electromagnetic wave must be determined, the so-called antenna phase center. This is precisely what the TU student dealt with in his master's thesis. With the help of a detector, Tegowski was able to determine the phase center in the milli degree range and achieve excellent resolution without having to access the antenna under investigation.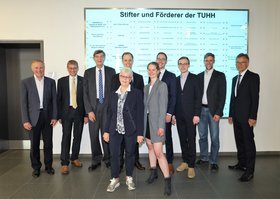 Dr. Maximilian Stark (prize money 3,000 euros)
High-performance mobile communications systems such as LTE, 5G or WLAN form the basis for digital communication. To ensure that these systems are even more powerful and resource-efficient in the future, Maximilian Stark researched efficient, self-learning communication systems in his doctoral thesis. In his work, Stark combined approaches from information theory, artificial intelligence, machine learning and classical signal processing. Among other things, the TU doctoral student focused on reliable transmission of information by holistically optimizing the transmitter and receiver system.
Dr. Jens Johannsen (prize money 3,000 euros)
In the production of raw materials or active ingredients, industry mainly uses chemical synthesis. However, this often requires toxic substances or harsh reactions. Enzyme-based synthesis routes promise a remedy. However, in order for these sustainable manufacturing processes to find widespread use in industry, they must be translated from laboratory to industrial scale at an early stage of research. Computer-aided process development methods for mathematical modeling, simulation and optimization are expected to help. Johannsen applied these in his doctoral thesis and used them to successfully optimize the production of enzyme-based specialty chemicals.
The Sick Science Award
To promote engineering and natural sciences, the Gisela and Erwin Sick Foundation of the Technical University of Hamburg awards a sponsorship prize for outstanding work on the topic of "Technical-scientific progress for the benefit of mankind and society". In awarding the science prizes, emphasis is placed both on fundamental scientific findings and technical practical relevance. The work should demonstrate the importance of innovative technology, in particular measurement methods, sensors or measurement technology systems, for a sustainable advantage for man and society. www.tuhh.de/tuhh/tu-hambu … k-wissenschaftspreis.html
The Gisela and Erwin Sick Foundation
The Gisela and Erwin Sick Foundation was established in 2002 by Gisela Sick, the widow of Dr.-Ing. e. h. Erwin Sick, the founder of SICK AG. The range of support provided by the foundation, which is based in Freiburg, covers the areas of youth and education, vocational training, and science and research. In recognition of the life's work of Dr.-Ing. e. h. Erwin Sick, an inventor and pioneer in the field of opto-electronics, the foundation places a special focus on natural sciences and technology with the aim of contributing to securing Germany as a location for technology and the future. To promote young scientists, the foundation awards science and sponsorship prizes as well as Germany scholarships at universities and colleges. Since December 2019, Renate Sick-Glaser, the daughter of the entrepreneurial family, has headed the Gisela and Erwin Sick Foundation as Chair of the Foundation Board. www.sick-stiftung.org/ges/
---
TUHH - Public Relations Office
Franziska Trede
E-Mail: franziska.trede@tuhh.de
Phone: +49 40 428 78 3458