Predicting the behavior of structures
Bastian Oesterle is a new professor at the TU Hamburg
02.08.2022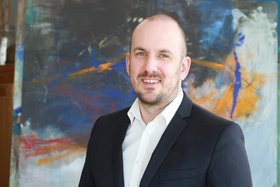 Structures are constantly exposed to their own weight and variable loads due to traffic, wind or earthquakes. Forces that they absorb, but which they must also withstand. When designing any new structure, therefore, questions arise not only about load-bearing capacity, but also about serviceability, i.e. whether deformations remain within tolerable limits. In order to be able to efficiently predict such effects computationally, Bastian Oesterle, professor of structural analysis, is developing innovative computer-aided design and calculation methods. How does a newly designed high-rise building behave in the event of an earthquake? Under what load does a grain silo buckle and fail? How much does a pedestrian bridge vibrate in use and how can these vibrations be minimized? To answer all these questions, efficient and reliable computer-aided simulation methods are needed in addition to engineering expertise.
Cross-disciplinary benefits
"What excites me most about computational structural mechanics is the cross-disciplinary benefits. Simulation methods are needed in practically all engineering disciplines, in civil engineering, but also in energy technology, aerospace, and even biomechanics, in order to predict and design the behavior of structures and materials," explains Oesterle. For example, different temperature influences in summer or winter can be simulated, or stresses on the wings of an aircraft or wind turbine blade under the influence of flow can be calculated.
Increasingly complex applications place great demands on the understanding of simulation methods. So that, despite these possibilities, engineers are all the more responsible for the assessment and control of calculation results. "This is precisely the point at which modern university teaching in structural analysis and dynamics must start in order to meet today's requirements and contribute to greater safety, economic efficiency and, above all, sustainability in many areas of our daily lives in the future," explains Oesterle.
Good teaching is crucial
A native of Stuttgart, Germany, Oesterle became passionate about university teaching early on, in addition to research. "I was able to gain a lot of teaching experience as a research assistant and postdoc and quickly realized how important good teaching is for the success of an institute or an entire university. It was precisely this mix of research and teaching, as well as the constant collaboration with young people, that made me want to pursue a career in science. Now I am happy that I was able to fulfill this dream. In addition, Hamburg is a great, cosmopolitan city, so it quickly became clear to me and my family that this was our path," says Oesterle, who is moving to the Elbe from the Institute of Structural Analysis and Structural Dynamics at the University of Stuttgart. His favorite activities outside of university are spending time with his two daughters, cooking for the family, and working off the calories he has absorbed by jogging, squash, and cycling.
---
TUHH - Public Relations Office
Franziska Trede
E-Mail: franziska.trede@tuhh.de
Phone: +49 40 428 78 3458