Digitization in teaching and learning
TU Hamburg receives strategic advice from the Higher Education Forum on Digitization
18.07.2022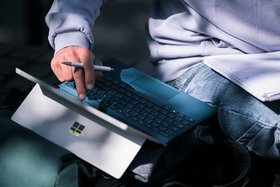 From the expansion of technical infrastructure, to innovative teaching formats, to digital platforms: The pandemic has shown how important it is to push ahead with digitization. At Hamburg University of Technology, too, teaching has been shifted to digital in a very short time - with success. After all, the new digital teaching and learning concepts make studying more flexible, accessible and future-proof. In order to further strengthen the potential of digital teaching in the future, the TU Hamburg applied for a peer-to-peer strategy consultancy from the Higher Education Forum on Digitization (HFD) and was successful against 17 competitors. Now the one-year development and transformation process is starting.
Increasing student success and strengthening digital competence
Different previous experiences, levels of knowledge and ways of working: Students as well as teachers perceive the start of studies as particularly challenging. Peer-to-peer strategy consulting aims to address two strategic challenges: Aligning digital teaching to increase student success and anchoring interdisciplinary digital competencies in course and curricula development. The focus here is on the development of new formats and tools as well as tailored training, communication and information offerings for digital teaching. In addition to ensuring a successful start to studies, the peer-to-peer strategy should also lead to students being confronted with the new and complex requirements in a digitized world of life and work during their studies. A cross-university series of events plans to give greater consideration to subject-specific, but also general digital skills.
About the Higher Education Forum on Digitization
As a nationwide think-&-do tank, the HFD brings together a broad community around digitization in teaching and learning, makes developments visible, and tests innovative approaches to solutions. To this end, stakeholders from universities, politics, business and society are networked, supported and advised. Founded in 2014, the Higher Education Forum on Digitization is a joint initiative of the Stifterverband, the CHE Center for Higher Education Development and the German Rectors' Conference. It is funded by the German Federal Ministry of Education and Research.
---
TUHH - Public Relations Office
Franziska Trede
E-Mail: franziska.trede@tuhh.de
Phone: +49 40 428 78 3458