Shapes, lines and colors
New art exhibition at the TU Hamburg
14.07.2022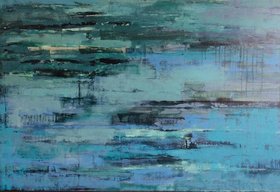 New art can now be admired in the main building of the Technical University: Under the title "Diversity", the artists Christa Röger and Marianne Schwark-Hupe are showing large-format paintings, collages and objects in strong colors. On August 18, 2022, the artists invite interested visitors to take a tour of the exhibition.
The two artists have been working together for 15 years - not only in one studio, but also on joint works. Their abstract and expressive acrylic paintings show how well Röger and Schwark-Hupe know each other, as they radiate harmony and unison. Especially the colors green and blue, but also red and pink can be found in the exhibition and have a particularly impressive effect on the viewer.
Marianne Schwark-Hupe explains that her paintings are not created according to a concept, but during the working process. "Painting means for me the confrontation with colors, light and shadow." In their studio in Seevetal/Maschen, the artists combine various materials for this, such as paper, photos, putty and aluminum plates. The use of color then ensures that the elements are joined together and a new pictoriality emerges. "I am fascinated by the simplicity of shapes, lines and colors. My works are usually non-representationally oriented, but always have a reference to the pictorial world," says Christa Röger.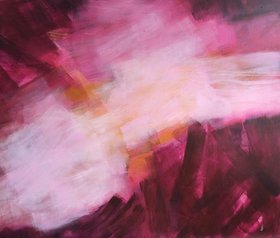 Art at the TU Hamburg
The art initiative has set itself the goal of bringing Hamburg's art and cultural scene closer to the students and staff of the TU Hamburg and, to this end, offers various guided tours and changing exhibitions. In this way, the TU has established itself as an integral part of Hamburg's cultural scene.
Further information at:
https://www2.tuhh.de/kunstinitiative/archive/category/ausstellung
What: Exhibition "Diversity" by Christa Röger and Marianne Schwark-Hupe
When: Until September 28, 2022
Where: Main building of the TU Hamburg, guided tour of the exhibition by the artists: August 18, 2022, 11 a.m. to 6 p.m., without registration on site
---
TUHH - Public Relations Office
Lena Bender
E-Mail: lena.bender@tuhh.de