Computer science at TU Hamburg among the top 10 nationwide
02.06.2022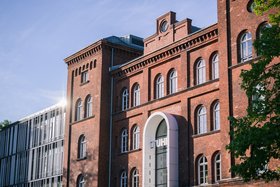 Hamburg University of Technology has been named one of Germany's top ten universities for the subject of computer science in the 2022 university ranking published by the business magazine Wirtschaftswoche. For this purpose, Wirtschaftswoche surveyed more than 500 human resources managers from companies to find out which universities and universities of applied sciences best train students to meet their requirements. The TU Hamburg ranked tenth among universities in the subject of computer science.

"More than 1,000 universities offer computer science courses throughout Germany. I am all the more pleased that we, as Germany's youngest technical university, have achieved a ranking among the ten best universities. This outstanding result shows that we are ideally preparing our students for their degree with contemporary and forward-looking teaching content and a personal support relationship. This opens up bright career prospects for them," says Professor Heiko Falk, Dean of Studies for Electrical Engineering, Computer Science and Mathematics at the TU Hamburg.

Engineering disciplines are making increasing use of results from computer science and mathematics research, both in the development of products and in the products themselves. New results in computer science and mathematics are thus becoming an important innovation factor in engineering and are therefore central areas of competence for an engineer and a university of technology. The study of computer science engineering, computer science or also data science imparts basics in computer science, electrical engineering, mechanics and engineering mathematics. Graduates thus acquire the fundamentals for the realization of technical products and processes as well as the development of engineering-oriented IT solutions. In particular, graduates are enabled to design combined hardware and software systems from model descriptions of technical systems.

The Wirtschaftswoche ranking is carried out in cooperation with the employer branding consultancy Universum. The top ten colleges and universities in each field of study are listed.

For more information on the TU's Computer Science Engineering, Computer Science and Data Science programs, visit www.stuhhdium.de.

Further information on the ranking at www.wiwo.de/my/erfolg/hoc … re-karriere/28265914.html
---
TUHH - Public Relations Office
Franziska Trede
E-Mail: franziska.trede@tuhh.de
Phone: +49 40 428 78 3458