Top rankings for the TU Hamburg
CHE University Ranking 2022
04.05.2022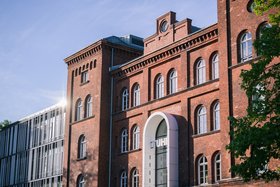 The Technical University of Hamburg achieves positions in the top groups in the current CHE university ranking in the engineering subjects. The excellent rating for the support of students at the beginning of their studies is to be emphasized. The TU Hamburg achieved top scores in all engineering subjects. These include civil engineering, electrical engineering and information technology, mechanical engineering, general engineering, civil and environmental engineering, process engineering and materials science. In addition to comprehensive support at the beginning of the studies, the TU Hamburg also scores with very good contact to professional practice. Already in the Bachelor's program, this aspect is of great importance in mechanical engineering and civil and environmental engineering. In the master's degree, the focus on this is strengthened in civil engineering and materials science. In general engineering, the very good supervision and support provided by lecturers during the course of studies stands out, while students in electrical engineering and information technology award top marks for library facilities.
"It is our aspiration to constantly improve and develop the high quality of research and teaching at the TU Hamburg. Rankings such as the CHE university ranking provide a welcome incentive for this. In Germany and Europe, we need well-trained engineers to meet the challenges of society. However, starting university is often a particular challenge. Therefore, in addition to the orientation studies, we rely on continuous support through tutorials and special advisory services during the course of studies," says TU Hamburg President Andreas Timm-Giel.
As part of the ranking, students evaluate their study conditions and provide information on where optimal teaching and support conditions or even beneficial practical experience can be expected. In addition, the CHE results show at which universities the library facilities and IT infrastructure are particularly good. For the first time, students were also asked about the use of digital teaching.
With around 120,000 students surveyed and more than 300 universities and universities of applied sciences as well as dual universities and universities of cooperative education examined, the CHE ranking is the most comprehensive and detailed comparison of universities in the German-speaking world.
Further information at ranking.zeit.de/che/en/ and www.che.de/che-ranking2022-hamburg.pdf
---
TUHH - Public Relations Office
Franziska Trede
E-Mail: franziska.trede@tuhh.de
Phone: +49 40 428 78 3458