Presidium of TU Hamburg decides on immediate aid measures for students and prospective students who have fled Ukraine
07.04.2022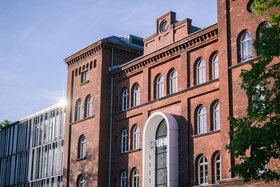 Following the Russian war of aggression on Ukraine, the Executive Board of the Hamburg University of Technology has been working intensively on university aid measures for refugees in order to give prospective students and students in particular a perspective. With immediate effect, therefore, in addition to financial support offers, simplified access for participation in courses as well as specific preparatory courses have been created. Those affected can contact the Service for Studies and Teaching directly: internationaloffice@tuhh.de
"I am deeply concerned about the current events in the wake of the war of aggression on Ukraine. As TU Hamburg, it is our duty to quickly open up opportunities for study to young people who have fled, and in this way to fulfill our social responsibility. Offering them concrete help in these challenging times is a matter close to my heart," says TU Vice President Teaching, Kerstin Kuchta.
The following measures have been adopted:
Refugees who have a university entrance qualification will be given free access as guest students. All courses at the TU Hamburg can thus be attended free of charge and in unlimited numbers. Furthermore, foundations are approached with regard to financial support for suitable applicants and the TU Foundation also provides assistance. In addition, refugees from Ukraine receive help in finding scholarships or student jobs. Within the framework of a newly created propaedeutic course, consisting of specific preparatory and language courses, the path for prospective students in particular to study engineering at the TU is to be paved.
Additional information for students and refugees in need at: www.tuhh.de/tuhh/en/inter … s-scientists-from-ukraine
---
TUHH - Public Relations Office
Franziska Trede
E-Mail: franziska.trede@tuhh.de
Phone: +49 40 428 78 3458