Green hydrogen for the mobility of the future
Scientists at TU Hamburg investigate possible applications for Lübeck
11.02.2022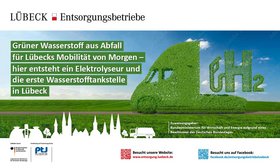 As climate change progresses, sustainable energy is becoming increasingly important for supplying society and the economy. A fact that is gaining further relevance due to increasing electrification. For a successful energy turnaround, however, the entire energy system must be converted. This requires additional energy carriers for the intermediate storage of regeneratively generated electricity. The solution: hydrogen. In the future, this will transport renewable energy over long distances and store it efficiently in large quantities and over a long period of time. In the future, scientists from the Institute of Environmental Technology and Energy Economics at the Technical University of Hamburg in Lübeck will be investigating how this can work under real conditions.

Linking the electricity, transport and heating sectors

The aim of the research project is to explore the possibilities and limits of using green hydrogen. The entire value chain, i.e. the generation, storage, provision and use of hydrogen in the municipal sector, is to be mapped.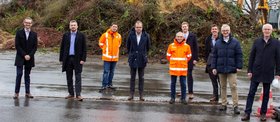 The starting point for this is "green" electricity generated by combined heat and power plants powered by landfill gas. An electrolyzer is used to generate hydrogen from the electricity, which is then used as fuel for a waste collection vehicle operated by Entsorgungsbetriebe Lübeck. Any by-products produced, such as heat and oxygen, will in turn be put to good use in a biomass plant operated by Entsorgungsbetriebe Lübeck.

"With this research project, we can demonstrate the entire value chain for the first time on a concrete application and compare our scientific findings with data from real operations. This will help other hydrogen projects to improve system integration, thereby reducing costs and climate impact," explains TU scientist and project manager Ulf Neuling.

"Entsorgungsbetriebe Lübeck is the municipal service provider in the Hanseatic City of Lübeck. The energy turnaround is one of the biggest challenges of the next two decades and we already developed a renewable energy strategy many years ago. When it comes to hydrogen, we also want to try to implement our long-standing core competence of thinking in cycles," says Jan-Dirk Verwey, director of Entsorgungsbetriebe Lübeck.

The "HyHL" project is being funded by the German Federal Ministry of Economics and Climate Protection with almost three million euros over a period of three years. In addition to TU Hamburg, Entsorgungsbetriebe Lübeck and Stadtwerke Lübeck GmbH are also involved.

Further information at:

https://www.tuhh.de/iue/f … produktionsverfahren.html

Translated with www.DeepL.com/Translator (free version)
---
TUHH - Public Relations Office
Franziska Trede
E-Mail: franziska.trede@tuhh.de
Phone: +49 40 428 78 3458