"Development of novel material systems"
Kaline P. Furlan is a new professor at the TU Hamburg
25.11.2021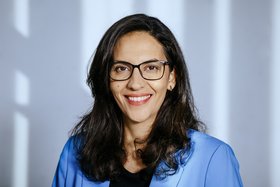 To bring students closer to her research, Kaline P. Furlan advises them to observe carefully: "Look around, what materials do you see and how were they processed?" asks the materials scientist, who has been a professor at the Institute of High-Performance Ceramic Materials since August 2021. That's because almost all the things we use every day are made from certain materials and with a certain materials technology. Ballpoint pens, for example, have a casing that is produced by extrusion or injection molding. The cups from which we drink our coffee in the morning are usually formed from a powder suspension and then sintered. And one substance where the ingredients are not so obvious to spot is sunscreens. They often contain ceramic titanium oxide nanoparticles that reflect solar radiation like tiny mirrors. "The fascinating thing is that the possibilities for shaping the future or making the world a better place are endless with the development of new material systems. For example, they can lead to improved virus detection systems and also to the elimination of viruses using filters or nanostructured active surfaces," explains Kaline P. Furlan.

The scientist is interested in the challenges of producing innovative integrated material systems. Such material systems have functional properties that result from the combination and hierarchical structuring of different materials. These can be, for example, photonic thermal barrier coatings that are capable of returning heat by selective reflection in the infrared range. Such reflection is produced by a tailored ceramic nanostructure. Materials and engineering have always appealed to the scientist. Kaline P. Furlan has already completed her bachelor's degree in materials science at the Federal University of Santa Catarina in Brazil. With a stopover at the Fraunhofer Institute for Manufacturing Technology and Applied Materials Research in Bremen, she came to Hamburg after completing her doctorate and has been working at the TU for five years as part of the Collaborative Research Center "Tailored, Multiscale Materials Systems." "I'm looking forward to establishing new collaborations with colleagues at TU Hamburg," says the scientist. Becoming a professor has always been - at least subconsciously - Kaline P. Furlan's goal. According to her mother, even as a child she recreated classrooms with blackboards, desks and chairs and lectured to her dolls. Outside of college, her attention is focused on a seven-year-old golden retriever, with whom she explores the parks and woods around Harburg.
---
TUHH - Public Relations Office
Elke Schulze
E-Mail: elke.schulze@tuhh.de