Electricity From Nature
Hamburg Wins International Competition
14.06.2021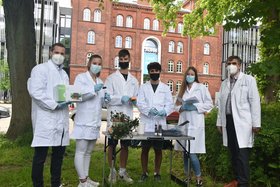 As a pioneer in sustainable energy generation, Hamburg successfully participated in the global "AcceliGOV" competition. Now, Hamburg's schoolchildren are researching electricity generation from nature together with the Hamburg University of Technology. For this, the non-profit organization and competition organizer Leading Cities is providing experimentation kits from the Spanish company Bioo. Cities from all over the world took part in the competition and from the seven finalists, including cities such as Athens, Turin and Stockholm, Hamburg was selected as the "AcceliGOV" winner.
School Senator Ties Rabe: "When it comes to the environment, new technologies and research in the field of natural sciences, Hamburg's students are very enthusiastic. This is also evident in the area of competitions, where outstanding achievements are repeatedly honored. Alternative energies are very much in tune with the times and greatly match the interests of science pupils. Hamburg's success in the AcceliGOV competition brings this topic to the attention of many curious schoolchildren. This is a benefit for the children and young people, but also for our city and our society."
"If we think about digital transformation and climate-friendly electricity requirements together, the environment, society and the economy will benefit in equal measure. It's great that Hamburg´s schoolchildren are experiencing this for themselves with the experiment kits. Generating electricity for digitalization in a sustainable way is trend-setting," says Christian Pfromm, Chief Digital Officer of the Free and Hanseatic City of Hamburg and Head of the Office for IT and Digitalization.
Hamburg's regional energy needs are to be covered by renewable energies as early as 2035. Wind and solar energy play a central role in this, but Hamburg's green spaces could also generate 100 percent electricity from nature 24 hours a day without harming it. Around 240 Hamburg schoolchildren are exploring this potential with the help of 80 experimental kits. They are being supported by the Institute for Technical Biocatalysis as well as the NachwuchsCampus initiative of the Hamburg University of Technology and the State Institute for Teacher Training and School Development in Hamburg. "I am convinced that these scientific experiments will inspire young scientists, further fuel their interest in sustainability and awaken their interest in studying engineering," says Kerstin Kuchta, Vice President Academic Affairs at the TU Hamburg.
Leading Cities is an international non-profit organization that connects innovative cities around the world. In addition to Hamburg, the network was launched by nine other cities, including Lyon, Barcelona, Boston and Vancouver. The goal of the organization is to build a global network of visionary leaders from the public, private, academic and non-profit sectors to promote progressive innovation for greater equity and sustainability. One way it does this is through a global competition called AcceliGOV. Through this, Leading Cities aims to make it easier for municipalities to implement innovative solutions by providing prepaid pilot projects. One of these comes from the Spanish company Bioo, which specializes in scientific research into the generation of electricity from nature. For this, Bioo was named Europe's most innovative company by the European Parliament. One of the company's main goals is to bring nature and technology together to improve the quality of life.
Bioo uses the electricity generated by the decomposition of organic matter in soil by bacteria, rainwater and irrigation. Electrons are released in the decomposition process of the molecules and the Bioo technology captures these electrons, generating electricity. The task for students in grades 9-13 is to build a bio-battery to make LEDs glow. Through Bioo Education, they can learn firsthand how to generate electricity from nature with the materials kit, accompanying educational material, and a digital platform. Students learn about biological batteries as new sources for generating energy, immersing themselves in the practical application of biology, geology, physics, chemistry or technology. Bioo not only teaches the technical aspects of power generation, but also shows how to combine innovation and sustainability.
Inquiries from the Media
Behörde für Schule und Berufsbildung
Peter Albrecht
Telephone: +49-40-428 63 2003
E-Mail: pressestelle@bsb.hamburg.de
Senatskanzlei | Office for IT and Digitalization
Dr. Svenja Zell
Telephone: +49-40-428 23 2717
E-Mail: svenja.zell@sk.hamburg.de
---
TUHH - Public Relations Office
Franziska Trede
E-Mail: franziska.trede@tuhh.de
Phone: +49 40 428 78 3458