Von Hamburg nach Australien
TU Hamburg und University of Newcastle erneuern Dual Degree-Abkommen
09.06.2021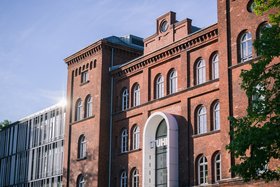 Die Technische Universität Hamburg und die University of Newcastle (UON) in Australien haben ihr Dual Degree-Abkommen bis Ende 2026 verlängert. Seit 2015 ermöglicht es den Austausch von Masterstudierenden des TU-Studiendekanats Management-Wissenschaften und Technologie. Diese können sich unter Anerkennung ihrer Studienleistungen an der Business School der UON einschreiben und in zwei Trimestern den australischen Master of Business Administration Abschluss (MBA) erlangen.
"Wir freuen uns sehr, dass wir unseren Studierenden dieses attraktive Auslandsprogramm mit der Möglichkeit eines zusätzlichen Abschlusses in Australien anbieten können", sagt Prof. Dr. Christian M. Ringle, Executive Director of International Affairs der TU Hamburg und Studiendekan des Studiendekanats Management-Wissenschaften und Technologie.
Die Business School der UON ist bereits seit 2012 Partneruniversität des Studiendekanats Management-Wissenschaften und Technologie. Die Forschungskooperationen umfassen neben gemeinsamen Projekten einen regelmäßigen Gastaufenthalt von Wissenschaftlerinnen und Wissenschaftlern. Australien stellt damit einen wichtigen Baustein im internationalen Portfolio der TU Hamburg dar und ist in den Reihen der Studierenden unter den Spitzenplätzen in Bezug auf Bewerberzahlen und Evaluation der Auslandsaufenthalte.
Über die University of Newcastle
Die University of Newcastle in New South Wales, Australien, ist eine öffentliche Universität, die 1965 gegründet wurde. Sie hat einen Hauptcampus in Callaghan, einem Vorort von Newcastle, und verschiedene Standorte im Standzentrum. Die UON ist eine weltweit anerkannte Bildungseinrichtung, die sich den Kernwerten Gerechtigkeit, Exzellenz, Engagement und Nachhaltigkeit verschrieben hat, um die wichtigsten Probleme der Welt zu lösen.
Weitere Informationen unter:
www.tuhh.de/sdw/dekanat
www.newcastle.edu.au
---
TUHH - Public Relations Office
Franziska Trede
E-Mail: franziska.trede@tuhh.de
Phone: +49 40 428 78 3458