Von Hamburg nach Kanada
DAAD fördert Austausch zwischen TU Hamburg und University of Waterloo
20.05.2021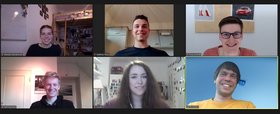 Das Austauschprogramm zwischen der Technischen Universität Hamburg und der University of Waterloo hat eine langlebige Tradition. Seit genau 30 Jahren haben Studierende der TU Hamburg die Chance, ein Auslandssemester in Nordamerika zu absolvieren. Nun wird das Programm für weitere vier Jahre vom Deutschen Akademischen Austauschdienst (DAAD) gefördert.
Seit 1991 werden jedes Jahr vier Plätze an Master-Studierende der TU Hamburg vergeben. Organisiert wird das Austauschprogramm vom TU-Institut für Mechanik und Meerestechnik. "Für unsere Studierenden ist es eine großartige Möglichkeit, an einer der renommiertesten Universitäten in Nordamerika zu studieren und internationale Erfahrungen zu sammeln", sagt Programmkoordinator Daniel Dücker. Die Studiengebühren und die Lebenshaltungskosten werden dabei durch Stipendien gedeckt. Neben dem Austausch mit der University of Waterloo fördert der DAAD auch das Programm mit der US-amerikanischen University of California Berkeley. Dies sei ein wichtiges Alleinstellungsmerkmal für die TU Hamburg, ergänzt Projektleiter Prof. Robert Seifried.. "Es gibt keine weitere Technische Universität in Deutschland, die gleich zwei vom DAAD geförderte ISAP-Austauschprogramme mit so hoch angesehenen Hochschulen in Nordamerika vorweisen kann."
Ab Herbst diesen Jahres werden die TU-Studierenden Mareike Wendelmuth (Allgemeine Ingenieurwissenschaften/Elektrotechnik), Henning Heck (Theoretischer Maschinenbau), Jana Linnea Pöhls (Allgemeine Ingenieurwissenschaften/Mediziningenieurwesen) und Matthias Renz (Mechatronik) an der University of Waterloo ein Austauschsemester absolvieren. "Ich freue mich auf ein Jahr voller Möglichkeiten: Eine neue Universität kennenzulernen, internationale Kontakte zu knüpfen, mich fachlich und persönlich weiterzuentwickeln, sowie eine neue Perspektive für mein Studium und meine Zukunft zu bekommen", sagt Mareike Wendelmuth.
Über den DAAD
Der Deutsche Akademische Austauschdienst ist die weltweit größte Förderorganisation für den internationalen Austausch von Studierenden und Wissenschaftlerinnen und Wissenschaftlern. Seit seiner Gründung im Jahr 1925 hat der DAAD rund 2,6 Millionen Akademikerinnen und Akademikern im In- und Ausland unterstützt. Neben der Vergabe von Stipendien, stärkt der DAAD die Internationalität der Hochschulen und fördert Entwicklungsländer beim Aufbau leistungsfähiger Hochschulen.
Weitere Informationen zum Austauschprogramm an der TU Hamburg: www.tuhh.de/mum/auslandsstudium.html
Weitere Informationen zum DAAD: www.daad.de/de/
---
TUHH - Public Relations Office