Technology for Agroecology - Weeding with robotics
19.03.2021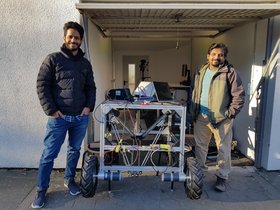 Summertime is strawberry time. In order for the red fruits, which are sown between January and March, to grow and flourish, the fields should be free of weeds. Those who want to do this without pesticides - chemical weed killers - weed by hand. This is environmentally conscious, but also very laborious, especially when the harvested area is as large as a football field. Durga Prasad Babu Nasika, a student at the Hamburg University of Technology, wants to change that. In his Master's thesis, he designed a robot that can detect and pull weeds in a field completely on its own - completely without pesticides.
The field robot was developed at the Institute of Wastewater Management and Water Protection under the direction of Professor Ralf Otterpohl and is equipped with artificial intelligence. "With the help of a camera, it can auto-nomously recognise the weeds between the plants and remove them as needed with an electronic arm," explains the TU student. He built a first prototype together with his supervisor Dr Tavseef Mairaj Shah in the research group "Rural Revival and Restoration Engineering". The project has resulted in a startup. The company was founded in Harburg under the name Ant Robotics GmbH in mid-March and is currently looking for further follow-up financing.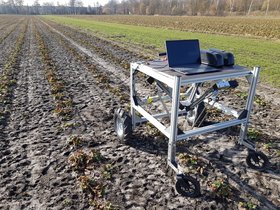 Nasika's goal is to use the robot to make it easier for farmers to work in the fields so that fewer chemical sprays have to be used in the future. This is because the pesticides not only land on the weeds, but also seep through the soil and can get into the groundwater. "This is a burden on both the environment and human health, because the toxins can cause cancer and weaken our immune system," says Nasika. With his field robot, this risk could be reduced.
The young scientist wants to make his invention available to the public as an open source licence. This will give everyone the opportunity to build and customise their own weeding robot. For his thesis, Nasika won first place in the BioThesis Research Award in the Master's category. This prize is awarded to young scientists who deal in an innovative way with sustainable and ecological topics in the organic food sector.
The robot project was funded by the Hamburg Open Online University (HOOU) in cooperation with the University Innovation Fellows (UIF) of TU Hamburg. Further information in the press release of 28.08.2020.
---
TUHH - Public Relations Office