125.000 Euro für Kooperationsprojekt
Norddeutscher Wissenschaftspreis für Graduiertenschule "DASHH Data Science in Hamburg"
26.11.2020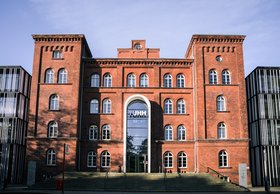 Die Graduiertenschule "DASHH Data Science in Hamburg – Helmholtz Graduate School for the Structure of Matter" erhält den Norddeutschen Wissenschaftspreis 2020 und damit 125.000 Euro. In dem Projekt kooperiert die Technische Universität Hamburg (TUHH) mit zahlreichen Einrichtungen aus Hamburg und weiteren norddeutschen Bundesländern, um Promovierenden im Bereich Data Science innovative Weiterbildung und Kooperation zu ermöglichen.
Die Graduiertenschule wurde 2018 gegründet und ist wegweisend für die Entwicklung neuer kooperativer Ansätze, um komplexe, heterogene Daten mithilfe intelligenter Algorithmen auszuwerten. Die Datensätze stammen unter anderem aus der Strukturbiologie, der Teilchenphysik, den Materialwissenschaften und aus der Forschung mit ultrakurzen Röntgenlichtpulsen. Promovierende können zum Beispiel spezielle Softwarelösungen für Datenmanagement, -verarbeitung und -analyse erarbeiten, aber auch völlig neue computergestützte Data-Science-Methoden entwickeln. Dafür steht ihnen auch die exzellente Forschungsinfrastruktur auf dem Campus Bahrenfeld zur Verfügung.
Ziel der Graduiertenschule DASHH ist es, durch Zusammenarbeit zwischen Informatik, Mathematik und naturwissenschaftlicher Grundlagenforschung Wissen über die Prozesse der Natur zu erlangen und naturwissenschaftliche Forschung nachhaltig mit modernster Informatikforschung zu verknüpfen.
"Das ganze Team der Graduiertenschule freut sich sehr über diese Auszeichnung. Vor allem ehrt uns die mit ihr verbundene Wertschätzung für die interdisziplinäre Data-Science-Forschung, die wir hier in Hamburg mit Partnern aus Niedersachsen und Schleswig-Holstein aufbauen. Alle Beteiligten bringen sich mit viel Engagement und Freude ein und der Norddeutsche Wissenschaftspreis ist eine große Motivation, den interdisziplinären Austausch zu Data Science zwischen Informatik, Mathematik und den Naturwissenschaften im Sinne der Forschung und Ausbildung unserer Promovierenden weiter zu intensivieren", erklärte das DASHH-Team um den Sprecher Prof. Dr. Matthias Rarey vom Zentrum für Bioinformatik der Universität Hamburg und die Sprecherinnen Prof. Dr. Sabine Le Borne (TUHH) und Prof. Dr. Nina Rohringer (DESY).

Beteiligt an dem Projekt sind die TUHH, die Universität Hamburg, das Deutsche Elektronen-Synchrotron DESY, die Helmut-Schmidt-Universität (HSU), das Helmholtz-Zentrum Geesthacht (HZG), das Helmholtz-Zentrum für Infektionsforschung (HZI), das Max-Planck-Institut für die Struktur und Dynamik der Materie (MPSD), die European XFEL GmbH sowie die Hochschule für Angewandte Wissenschaften Hamburg (HAW).
Der Norddeutsche Wissenschaftspreis wird seit 2012 alle zwei Jahre von der Norddeutschen Wissenschaftsministerkonferenz (NWMK) vergeben. Ausgezeichnet werden herausragende wissenschaftliche Projekte, an denen Wissenschaftlerinnen und Wissenschaftler aus mindestens zwei norddeutschen Bundesländern beteiligt sind. In diesem Jahr geht der mit insgesamt 250.000 Euro dotierte Norddeutsche Wissenschaftspreis an Verbundprojekte aus dem Bereich Naturwissenschaften. Einen weiteren ersten Preis erhält ein Verbundprojekt der Länder Bremen und Niedersachsen zu "Geodäsie und Klimaforschung – Wechselwirkung zwischen Kohlenstoff- und Wasserkreislauf".
Weitere Infos zu DASHH: https://www.dashh.org/
Für Rückfragen:
Prof. Dr. Matthias Rarey
Universität Hamburg
Zentrum für Bioinformatik
Tel.: +49 40 42838-7351
E-Mail: rarey@zbh.uni-hamburg.de
Dr. Christiane Ehrt
Universität Hamburg
DASHH Koordination
Tel.: +49 40 42838-7359
E-Mail: ehrt@zbh.uni-hamburg.de
Text: Anna Maria Priebe, Kommunikation und Öffentlichkeitsarbeit, Universität Hamburg
---
TUHH - Public Relations Office
Franziska Trede
E-Mail: franziska.trede@tuhh.de
Phone: +49 40 428 78 3458