Innovative Mentoren: Doktoranden der TU Hamburg beginnen Innovationsausbildung an der d.school der Universität Stanford
13.11.2020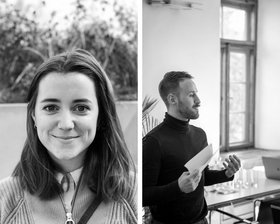 Die Doktorandin Luise Degen und der Doktorand Malte Krohn der Technischen Universität Hamburg wurden als Kandidaten im Mentoren Programm für das sogenannte "University Innovation Fellows (UIF) Programm" an der d.school ausgewählt. Das Trainingsprogramm wird vom Hasso Plattner Institute of Design an der Stanford Universität in den USA organisiert. Das zweijährige Programm gibt insgesamt zwanzig Kandidatinnen und Kandidaten aus sechzehn Hochschuleinrichtungen aus der ganzen Welt die Möglichkeit, gemeinsam einzigartige und innovative Projekte zugunsten des Ökosystems der eigenen Einrichtung zu entwickeln.
Mit neuen Ideen voran: Das UIF-Programm bildet bereits seit 2012 Studierende zu sogenannten University Innovation Fellows aus. Damit werden Studierende unterstützt, die sich durch innovative, kreative und unternehmermische Projekte auszeichnen. Nach dem sechswöchigen Trainings-Programm in Stanford haben die UIF-Gruppen die Möglichkeit, ihre Ideen an ihrer jeweiligen Heimatuniversität umzusetzen. Das kann beispielsweise die Planung von wissenschaftlichen Events, die Bildung von Kooperationen oder die Entwicklung von neuen Lehrangeboten sein. An diesem internationalen Austausch können sich seit 2020 nun auch erstmalig die Mentorinnen und Mentoren der Studierenden aktiv beteiligen.
"Die Corona-Pandemie hat gezeigt, dass Hochschulen auf der ganzen Welt schnell, flexibel und vor allem innovativ auf neue Gegebenheiten und Herausforderungen reagieren müssen", erklärt TU-Doktorandin Luise Degen. "Als Teil dieser internationalen Gemeinschaft haben wir als Mentorinnen und Mentoren gemeinsam mit unseren Studierenden die einzigartige Möglichkeit Ressourcen zu bündeln, um die Zukunft zu gestalten. Unser Projekt zum Thema Entrepreneurial Mindfulness soll Agenten des Wandels befähigen, mit ihren persönlichen Grenzen, wie Stress und Unsicherheiten, achtsam umzugehen.", so Malte Krohn weiter.
Das University Innovation Fellows-Programm hat weltweit mehr als 2.200 Studierende sowie Doktoranden und Doktorandinnen aus unterschiedlichen Fachbereichen ausgebildet. Die Teilnehmerinnen und Teilnehmer organisieren sich an ihrer jeweiligen Hochschule in Teams mit dem Ziel kreative, innovative und unternehmerische Konzepte an ihrem Campus nachhaltig umzusetzen. Finanziert wird das Programm durch Teilnahmegebühren und das Hasso Plattner-Institute of Design der Universität Stanford.
Weitere Informationen zum Programm unter:https://universityinnovat … novation-fellows-program/.
Weitere Informationen zum Projekt unter:https://universityinnovat … echnology_Faculty_Project
---
TUHH - Public Relations Office
Franziska Trede
E-Mail: franziska.trede@tuhh.de
Phone: +49 40 428 78 3458