Logistik digital gestalten: HICL-Konferenz 2020 an der TU Hamburg
03.09.2020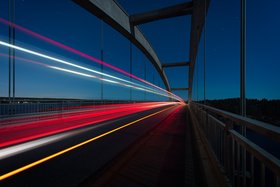 Vom 23. bis 25. September findet an der Technischen Universität Hamburg die 14. Hamburg International Conference of Logistic (HICL) 2020 statt. Unter dem Leitthema "New Ways of Creating Value in Supply Chains and Logistics" haben Wissenschaftlerinnen und Wissenschaftler sowie Vertreterinnen und Vertreter der Logistik-Branche die Möglichkeit, sich über die neusten Entwicklungen und Forschungsergebnisse auszutauschen.
Wie können Lieferketten, auch Supply Chains genannt, von der Materialsichtung über den Produktionsprozess bis hin zur finalen Lieferung an die Konsumenten für eine digitalisierte Zukunft optimiert werden? Über diese und weitere Fragen werden sich die Logistik-Expertinnen und Experten im Rahmen der HICL-Konferenz austauschen. In Vorträgen und Gesprächsrunden diskutieren sie gemeinsam über aktuelle Konzepte, Methoden und Lösungsansätze aus den Fachbereichen Logistik und Supply Chain Management. "Unsere Gesellschaft und Wirtschaft befinden sich in einem ständigen Wandel. Da durch die Digitalisierung Informationen und Daten in größeren Mengen auftreten, muss vor allem das Supply Chain Management datenbasiert aufbereitet werden", sagt einer der Konferenz-Organisatoren und TU-Professor Wolfgang Kersten. Dabei wird es nicht nur inhaltlich, sondern auch in der Umsetzung digital zugehen. So findet die jährliche Fachtagung aufgrund der Corona-Pandemie erstmalig virtuell statt.
Die HICL-Konferenz wird von den Instituten Logistik und Unternehmensführung, Maritime Logistik und Personalwirtschaft und Arbeitsorganisation des Studiendekanats Management-Wissenschaften und Technologie der TU Hamburg organisiert. Unterstützt wird die diesjährige Konferenz vom diversen Unternehmen aus dem Verein Hamburger Spediteure e.V.
Weitere Informationen und die Anmeldung bis zum 11. September 2020: https://hicl.org
---
TUHH - Public Relations Office