Wechsel im Präsidium der Technischen Universität Hamburg
Präsident Brinksma geht zum 01. September 2020 nach Rotterdam – Vizepräsident Timm-Giel übernimmt kommissarische Leitung
11.06.2020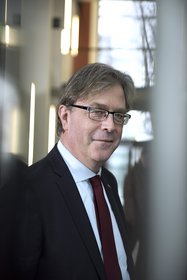 Der Präsident der TU Hamburg, Prof. Dr. Hendrik (Ed) Brinksma, folgt zum 01. September 2020 einem Ruf der Erasmus-Universität zu Rotterdam (EUR). Der gebürtige Niederländer wird an der international renommierten Universität das Amt des neuen Präsidenten antreten. Brinksma hat die TU Hamburg zweieinhalb Jahre lang erfolgreich geleitet und dabei das Wachstumskonzept der Hochschule offensiv gestaltet sowie deren nationale und internationale Positionierung gestärkt. Die kommissarische Leitung der Hochschule übernimmt der amtierende Vizepräsident Forschung, Prof. Dr. Andreas Timm-Giel.
Prof. Dr. Hendrik (Ed) Brinksma, Präsident TU Hamburg: "Ich verlasse die TU Hamburg schweren Herzens und nach sorgfältiger Überlegung. Es sind allein persönliche Gründe, die mich zu diesem Schritt bewegen. Der Ruf der sehr renommierten Universität in meinem Heimatland ist eine große Ehre, die ich nicht ignorieren oder ablehnen kann, trotz meiner sehr guten Erfahrungen in Hamburg. Hamburg, die TU Hamburg und die hiesigen Menschen bleiben in meinem Herzen."
Wissenschaftssenatorin Katharina Fegebank: "Ed Brinksma ist ein hervorragender Hochschulmanager, der das Wachstumskonzept, die Lehre und die Forschungsleistung der TU Hamburg sowie ihren Transfer in Wirtschaft und Gesellschaft entschieden vorangetrieben hat. Er hat den Hochschulstandort Hamburg als verlässlicher Verhandlungspartner wesentlich geprägt und ihm weitere internationale Strahlkraft verliehen. Ich bedaure seine Entscheidung, kann seine persönlichen Beweggründe aber nachvollziehen. Ich danke Herrn Brinksma für sein großes Engagement sowie die gute Zusammenarbeit und wünsche ihm für die Zukunft alles Gute. Mit Prof. Timm-Giel ist die TU Hamburg weiterhin in den besten Händen. Er hat in seiner bisherigen Funktion als Vizepräsident bewiesen, dass er in der Lage ist, die Hochschule bestmöglich für die Zukunft aufzustellen und dabei wichtige Impulse für Forschung, Lehre und im Technologietransfer an der TU Hamburg zu setzen. Ich danke Herrn Timm-Giel für die Bereitschaft, als Interimspräsident zur Verfügung zu stehen und freue mich auf die weiterhin gute Zusammenarbeit."
Das Präsidium der TU Hamburg unterstreicht anlässlich des angekündigten Wechsels die hervorragende Zusammenarbeit mit Ed Brinksma und seine authentische und menschliche Art. "Die Präsidiumsmitglieder respektieren Brinksmas Entscheidung, sehen diese jedoch mit tiefem Bedauern. Das Präsidium wird den mit Ed Brinksma eingeschlagenen Reformkurs der TU Hamburg weiterverfolgen", so eine gemeinsame Reaktion des Präsidiums auf den bevorstehenden Wechsel.
Walter Conrads, Vorsitzender des Hochschulrats: "Ed Brinksma hat mit seiner großen internationalen Erfahrung der TUHH entscheidende Impulse in Forschung, Lehre und Technologietransfer gegeben, die über seine Amtszeit hinaus wirken werden. Ihm ist es gelungen, neue strategische Partner in Wissenschaft und Industrie zu gewinnen und damit die Reputation der TUHH national und international zu stärken. Dafür danke ich ihm im Namen unseres Gremiums."
Brinksma ist seit Februar 2018 Präsident der TU Hamburg. Seine Amtszeit ist geprägt von dem Beginn des Wachstumskurses der TUHH. So konnten in den vergangenen Monaten erste Wachstumsprofessuren besetzt und der neue Campusstandort mit dem HIP One im Harburger Binnenhafen eröffnet werden. Konsequent positionierte Brinksma die TU Hamburg in internationalen Rankings, verstärkte die Kooperation im Netzwerk des European Consortium of Innovative Universities (ECIU) und arbeitete intensiv an der regionalen Vernetzung von Forschungsaktivitäten unter anderem mit dem Helmholtz-Zentrum Geesthacht, dem DESY und dem UKE. Im Bund-Länder Programm konnten in seiner Amtszeit 11 zusätzliche Juniorprofessuren für die TU Hamburg eingeworben werden und er leitete eine neue Phase der Studierendenwerbung ein. In der Präsidentschaft Brinksmas feierte die TU Hamburg zudem ihren 40. Geburtstag.
Zur Person
Hendrik (Ed) Brinksma (62) ist Professor für Informatik und hielt an der Universität Twente (UT) von 2009 bis 2016 das Amt des Rektors inne. Zuvor war der gebürtige Niederländer wissenschaftlicher Leiter des "Embedded Systems Institute" in Eindhoven sowie Professor an der Technischen Universität Eindhoven. Als Dekan leitete er von 1995-1997 die Fakultät für Informatik an der UT. Nach Aufenthalten am Stevens Institute of Technology in Hoboken, New Jersey, an der Universität Twente und an der Singapore University of Technology and Design, war er seit Februar 2018 Präsident der TU Hamburg.
---
TUHH - Public Relations Office
Franziska Trede
E-Mail: franziska.trede@tuhh.de
Phone: +49 40 428 78 3458