"Keep calm and let's get sustainable!": Studierende planen digitales Nachhaltigkeits-Event an der TUHH
20.04.2020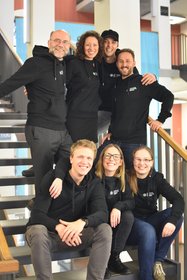 Vier Studierende der Technischen Universität Hamburg (TUHH) haben erfolgreich das internationale "University Innovation Fellows"-Programm (UIF) der Universität Stanford in den USA abgeschlossen. Insgesamt wurden im aktuellen Jahrgang 360 Studierende von weltweit 90 Hochschulen zu sogenannten University Innovation Fellows ausgebildet. Mit dem UIF-Programm werden Studierende unterstützt, die sich durch innovative, kreative und unternehmermische Projekte auszeichnen. Nach dem sechswöchigen Trainings-Programm in Stanford, haben die UIF-Gruppen die Möglichkeit, ihre Ideen an ihrer jeweiligen Heimatuniversität umzusetzen. Das kann beispielsweise die Planung von wissenschaftlichen Events, die Bildung von Kooperationen oder die Entwicklung von neuen Lehrangeboten sein.
Mit Inspiration zurück an die TUHH: Svenja Seiß, Studentin der Verfahrenstechnik, AmirPedram Bozorg Soltani, Student der Elektrotechnik sowie Merle Marie Doliwa und Lucas Funk aus dem Studiengang Internationales Wirtschaftsingenieurwesen haben das Stanford UIF-Programm erfolgreich absolviert. Inspiriert von neuen Ideen planen die Studierenden nun eine interdisziplinäre Veranstaltung. Zuvor haben sie in einer Umfrage unter den Studierenden, Professorinnen und Professoren und Mitarbeitenden herausgefunden, welche Themen, Projekte oder Persönlichkeiten die TUHH-Angehörigen inspirieren.
Entstanden ist das Online-Event "Keep calm and let's get sustainable!" zum Thema Nachhaltigkeit am 30. April an der TU Hamburg. Geplant sind digitale Vorträge und Diskussionsrunden per Videokonferenz. Vortragende sind unter anderem Joana Gil von dem Startup LignoPure, TUHH-Professorin Kerstin Kuchta vom Institut für Umwelttechnik und Energiewirtschaft und der ehemaligen Manager und Aussteiger Matthias Böing, der in Norwegen Strände von Müll befreit. "Ziel der Veranstaltung ist es, neue innovative Konzepte und Lösungen zu entwickeln und verschiedene Studiengänge, Forschungsinhalte und vor allem Menschen an der TU Hamburg zusammenbringen", sagt UIF-Mitglied Merle Marie Doliwa. "Wir möchten ein Event organisieren, welches Inspirationen und Kreativität an der TUHH fördert. Dabei ist uns der interdisziplinäre Austausch sehr wichtig." Unterstützt wird die Gruppe von TUHH-Professor Cornelius Herstatt sowie von den wissenschaftlichen Mitarbeitenden Sandra-Luisa Moschner und Malte Krohn vom Institut für Technologie- und Innovationsmanagement.
Das University Innovation Fellows-Programm hat weltweit mehr als 2.200 Studierende sowie Doktoranden und Doktorandinnen aus unterschiedlichen Fachbereichen ausgebildet. Die Teilnehmerinnen und Teilnehmer organisieren sich an ihrer jeweiligen Hochschule in Teams mit dem Ziel kreative, innovative und unternehmerische Konzepte an ihrem Campus nachhaltig umzusetzen. Finanziert wird das Programm durch Teilnahmegebühren und das Hasso Plattner-Institute of Design der Universität Stanford.
Weitere Informationen: http://uif.hoou.tuhh.de
Das Video zum Projekt: youtu.be/shAGkb_laQk
Mehr über das UIF-Programm unter: universityinnovationfellows.org/
Was? Online-Event "Keep calm and let's get sustainable!"
Wann? Donnerstag, 30. April, 10 bis ca. 14 Uhr
Anmeldung bis zum 28. April: www.hoou.de/teams/event-keep-calm-let-s-get-sustainable
---
TUHH - Public Relations Office