Rotary Club fördert Studierende der TUHH und des NIT mit Green Tech-Stipendium
30.03.2020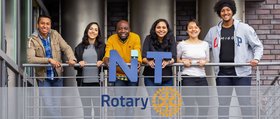 Der Rotary Club Hamburg-Harburg und das Northern Institute of Technology Management (NIT) werden künftig kooperieren: Im Rahmen der Zusammenarbeit wird der Rotary Club ein Teilstipendium für Studierende des Doppelmaster-Programms der Technischen Universität Hamburg (TUHH) und des NIT oder des Masterprogramms des NIT vergeben, die eine Geschäftsidee im Bereich "Green Technology" realisieren möchten. Durch das Stipendium sollen innovative Lösungen entstehen, die sich positiv auf unser Leben und die Umwelt auswirken.
Gründungspotenzial trifft auf soziales Engagement des RC Hamburg-Harburg
In den zwei Jahren des Masterstudiums am NIT wird der_die geförderte Studierende die eigene Gründungsidee im Bereich "Green Technology" weiterentwickeln. Begleitend erhält er_sie das notwendige Handwerkszeug, um die Idee zu realisieren. Räumlichkeiten, wie der NIT Startup-Space, sowie eine intensive Betreuung durch Coaches helfen zusätzlich bei der Entwicklung der Geschäftsidee. Die abschließende Masterarbeit soll aus einem detaillierten Business Plan für die Gründung eines Startups im Bereich Green Technology bestehen.

Bewerbung für das Green Tech-Stipendium jetzt möglich
Interessierte am NIT-Studium können sich ab sofort für das Green Tech-Stipendium bewerben. Dabei sollten sie ihr Gründungsinteresse bei der Bewerbung fürs Studium zum Ausdruck bringen. Gefördert werden besondere Talente aus aller Welt, die keine weitere finanzielle Unterstützung seitens der Indust-rie oder von Stiftungen erhalten. Zu Studienbeginn im Oktober 2020 findet eine feierliche Übergabe der Stipendienurkunde an die geförderte Person statt. Außerdem wird sie zu Events des Rotary Club Ham-burg-Harburg eingeladen.

Weitere Informationen zum Green Tech-Stipendium und zum Masterstudium auf www.nithh.de/study

Über den Rotary Club Hamburg-Harburg
Der Rotary Club Hamburg-Harburg ist einer von mehreren Hamburger Rotary Clubs und wurde 1951 ge-gründet. Er hat 55 Mitglieder, die sich unter dem Motto "Service above self / selbstloses Dienen" in einer Vielzahl von sozialen Aktivitäten engagieren. In Deutschland gibt es mehr als 50.000 Mitglieder in rund 930 Clubs. Rotary International vereint Persönlichkeiten aus allen Kontinenten, Kulturen und Berufen, um weltweit Dienst an der Gemeinschaft zu leisten und um zu einer besseren weltweiten Verständigung bei-zutragen.

Über das NIT
Das NIT Northern Institute of Technology Management ist eine private Bildungseinrichtung und wurde im Jahr 1998 von Professoren der TUHH als gemeinnützige GmbH gegründet. Unter dem Motto 'BE THE CHANGE' lernen Talente aus aller Welt, Managementaufgaben verantwortungsvoll zu meistern. Mit Schwerpunkt auf den Themen Digitalisierung, globales Management und Un-ternehmertum qualifiziert das NIT-Studierende und Führungskräfte, die digitale Zukunft zu gestalten. Mit dem MBA-Studium in Technologiemanagement sowie Weiterbildungs-Workshops schlägt das NIT die Brücke zwischen wissenschaftlicher Expertise und innovativen Qualifizierungs-Angeboten für Unternehmen.

Pressekontakt
Alexandra Rode
Manager Online Marketing & Press Relations
alexandra.rode@nithh.de
Tel. 040 42878 3072
www.nithh.de
Text: Alexandra Rode, Manager Online Marketing & Press Relations
---
TUHH - Public Relations Office
Franziska Trede
E-Mail: franziska.trede@tuhh.de
Phone: +49 40 428 78 3458