TUHH, UHH und DESY entwickeln interdisziplinäres Center for Data and Computing in Natural Science (CDCS)
20.02.2020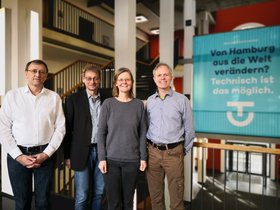 Die Behörde für Wissenschaft, Forschung und Gleichstellung (BWFG) fördert die interdisziplinäre Initiative "Center for Data and Computing in Natural Science" (CDCS) im Rahmen der Landesforschungsförderung Hamburg mit knapp vier Millionen Euro auf insgesamt vier Jahre. In dem Projekt arbeiten Forschende der Technischen Universität Hamburg (TUHH), der Universität Hamburg (UHH, antragstellende Hochschule) und dem Deutschen Elektronen-Synchrotron (DESY) zusammen. Ziel des Zentrums ist, die Forschung im Bereich der Digitalisierung in der Science City Bahrenfeld (SCB) zu stärken.
In den Naturwissenschaften beruht die Forschung in vielen Bereichen auf der Erfassung und Analyse großer, komplexer und in den letzten Jahren drastisch wachsender Datenmengen. Grund hierfür sind die zunehmende Automatisierung der Experimentalforschung, die Digitalisierung komplexer technischer Systeme und die wachsende Bedeutung von Simulationen. Um dieser Fülle an Daten in der naturwissenschaftlichen Forschung gerecht zu werden, müssen Methoden der Informatik und der angewandten Mathematik zur Hilfe genommen beziehungsweise neu entwickelt werden. Entstehen soll daher ein interdisziplinäres Zentrum, in dem die benötigten Fachkompetenzen – von der Grundlagen- und Strukturforschung bis zur Systembiologie – in vier sogenannten "Cross Disciplinary Labs" (CDLs) gebündelt werden: "Computational Astro and Particle Physics", "Computational Photon Science", "Computational Systems Biology" und "Computational Controls of Accelerators".
Die TUHH wird im Rahmen des CDLs "Computational Controls of Accelerators" an der Schnittstelle zwischen technischer Infrastruktur und Informatik arbeiten. "In unserer Forschung werfen wir einen Blick auf komplexe technische Systeme. Darunter versteht man technische Komponenten wie Geräte oder Bauteile, die zu einer größeren Einheit, also einer Anlage oder einer Maschine, gehören. Das könnte beispielsweise ein Roboter sein", erklärt TUHH-Professor Görschwin Fey. Ist ein solches System in Betrieb, arbeiten und rechnen eine Vielzahl von Rechner- und Netzwerkkomponenten gleichzeitig und kontinuierlich. Dabei entstehen ständig Daten, die untereinander ausgetauscht werden. Die Fehlerentdeckung und -behandlung ist dabei ebenso kontinuierlich und gleichzeitig notwendig, was zu extrem großen Datenraten führt. "Im Rahmen unserer Arbeit möchten wir die Zuverlässigkeit dieser Systeme prüfen und deren Laufzeit garantieren. Dadurch wollen wir vermeiden, dass kleinste Fehler in der genutzten Hardware zu massiven Störungen im Gesamtsystem führen", so Fey weiter.
Das CDCS ist eines von vier Zukunftsclustern im Rahmen der Landesforschungsförderung – sogenannte "HamburgX-Projekte" – die mit insgesamt 12 Millionen Euro bis 2022 gefördert werden. Die Koordination des Verbundprojekts "Center for Data and Computing in Natural Science" übernehmen neben TUHH-Professorin Sabine Le Borne, Professor Matthias Rarey von der UHH (CDCS-Sprecher) und Professorin Nina Rohringer vom DESY.
---
TUHH - Public Relations Office
Franziska Trede
E-Mail: franziska.trede@tuhh.de
Phone: +49 40 428 78 3458