TUHH-Professor Cornelius Herstatt erhält Ehrendoktor der Kaunas University of Technology in Litauen
16.12.2019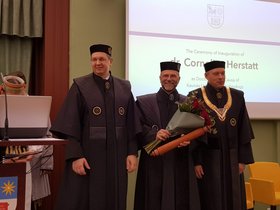 Im Rahmen eines feierlichen Festakts wurde der Ehrendoktortitel "Doktor Honoris Causa der Technischen Universität Kaunas" an Professor Cornelius Herstatt, Leiter des Instituts für Technologie- und Innovationsmanagement des Dekanats Management-Wissenschaften und Technologie der Technischen Universität Hamburg (TUHH), verliehen. Mit dem Ehrendoktortitel würdigt die Kaunas University of Technology (KTU) die erfolgreiche Zusammenarbeit beider Universitäten in den Bereichen Forschung, Lehre und Wissenstransfer.
International, innovativ, und interdisziplinär: Professor Herstatt betreut nicht nur regelmäßig Doktorandinnen und Doktoranden der KTU sondern entwickelte auch den internationalen Masterstudiengang "GTIME", an dem die KTU beteiligt ist. Das Programm ermöglicht Studierenden an zwei von insgesamt sechs internationalen Universitäten gleichzeitig zu studieren, um so fachliche aber auch kulturelle Fähigkeiten zu erlangen. Als ECIU-Partneruniversitäten sollen auch künftig gemeinsame Forschungsprogramme initiiert werden und ein innovatives Bildungsmodell auf europäischer Ebene verwirklicht werden. "Die Verleihung des Ehrendoktortitels ehrt mich sehr und ich freue mich darauf auch künftig spannende Projekte und den gegenseitigen Austausch beider Universitäten zu stärken", sagt Professor Herstatt.
1922 gegründet, zählt die Kaunas University of Technology mit ihren 10.231 Studierenden zu der größten Technischen Universität in Litauen und im Baltikum. Die Universität bietet Studiengänge in den Bereichen Ingenieurwesen, Technologien, Physik und Sozialwissenschaften, Geisteswissenschaften und Kunst an.
Mehr Informationen über die KTU unter https://en.ktu.edu
---
TUHH - Public Relations Office
Franziska Trede
E-Mail: franziska.trede@tuhh.de
Phone: +49 40 428 78 3458