Ausgezeichnete Forschung: TUHH-Professor An-Ping Zeng erhält AIChE Award 2019
06.12.2019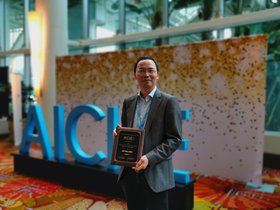 Für seine Forschungen auf dem Gebiet der Bioverfahrenstechnik wurde Professor Dr. An-Ping Zeng von der Technischen Universität Hamburg (TUHH) mit dem "Food, Pharmaceutical, and Bioengineering Division Plenary Award 2019" des American Institute of Chemical Engineers (AIChE) ausgezeichnet. An-Ping Zeng ist seit 2006 Professor und Leiter des Instituts für Bioprozess- und Biosystemtechnik im Dekanat Verfahrenstechnik an der TUHH und forscht zu Themen der industriellen und pharmazeutischen Biotechnologie.
In seiner aktuellen Forschungsarbeit widmet sich Professor Zeng insbesondere dem neuen Gebiet der Elektrobiotechnologie, der Schnittstelle zwischen Elektrochemie und Biotechnologie. Dabei wird regenerativer Strom anstatt Kohlenhydrate als Energiequelle eingesetzt, um die Biosynthese von Chemikalien und Wirkstoffen in einem bioelektrochemischen System noch ökologischer voranzutreiben. Die Elektrobiotechnologie wird auch als technische Photosynthese bezeichnet und hat das Potential, künftig Chemikalien und Kraftstoffe ausschließlich aus CO2, Wasser und regenerativem Strom herzustellen. Elektroden sind das Herzstück von Bioreaktoren für die bioelektrochemische Synthese. Dazu hat die Gruppe von Prof. Zeng neuartige "All-in-One"-Elektroden und entsprechende Bioreaktoren für eine Strom-unterstützte Biosynthese entwickelt.
Der AIChE Award
Mit dem AIChE Award zeichnet das American Institute of Chemical Engineers jährlich Personen aus Wissenschaft, Industrie, Regierungseinrichtungen und weiteren Organisationen aus, die einen besonderen Beitrag im Bereich der chemischen Verfahrenstechnik geleistet haben. In diesem Jahr wurde der Award beim AIChE Annual Meeting in Orlando, Florida verliehen.
---
TUHH - Public Relations Office