Mit einem Abschluss die Welt verändern – Technisch ist das möglich! TUHH verabschiedet ihre Absolventen
22.11.2019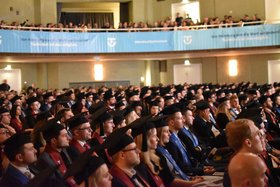 Am 22. November ehrte die Technische Universität Hamburg (TUHH) zum 27. Mal ihre Absolventinnen und Absolventen, die nun nordisch optimistisch in die Zukunft starten. Bei der Feierstunde nahmen 345 der über 600 Absolventen ihre Urkunden persönlich entgegen und feierten ihre wissenschaftlichen Abschlüsse mit über 1.200 Gästen in der Friedrich-Ebert-Halle in Harburg.
Traditionell gekleidet, mit Schärpe und Hut, zogen die jungen Akademikerinnen und Akademiker aus 27 Ländern feierlich in den Saal ein. Auf der Bühne nahmen sie dann ihre Urkunden zum Bachelor of Science, Master of Science oder Doktortitel in den Ingenieurwissenschaften entgegen. Insgesamt haben 559 Studierende und 51 Doktorandinnen und Doktoranden vom 1. März bis 31. August 2019 ihren Abschluss an der TUHH erworben.
Zu Beginn der Feier gratulierte TUHH-Vizepräsidentin Lehre Kerstin Kuchta den Studierenden zu ihren Leistungen: "In Ihrem Studium haben Sie sich einen Werkzeugkasten voller Fähigkeiten geschaffen. Sie sind bereit, die Zukunft zu gestalten."
In seiner Festrede ermutigte Christoph Birkel, Geschäftsführer vom hit-Technopark Hamburg, die Absolventinnen und Absolventen ihren Platz in der Gesellschaft zu finden: "Die Zukunft gehört nun Ihnen", so Birkel. "Nutzen Sie jede Chance, die sich Ihnen bietet und stellen Sie sicher, dass die Generationen nach Ihnen die gleichen Chancen haben werden wie Sie."
Henriette Sophie Porten aus dem Dekanat Management-Wissenschaften und Technologie richtete stellvertretend für ihre Kommilitoninnen und Kommilitonen ein Grußwort ans Publikum. In ihrer Rede ließ sie ihre Studienzeit Revue passieren, gab kleine Anekdoten zum Besten und bedankte sich bei ihren Freunden, Verwandten und den TUHH-Angehörigen für ihre Unterstützung.
Das Highlight des Abends war die Vergabe der Urkunden an die Hauptpersonen der Feier. Jede Absolventin und jeder Absolvent wurde namentlich auf die Bühne gebeten und von den jeweiligen Dekanen mit einer Urkunde ausgezeichnet. Zusätzlich überreichte Professor Andreas Liese einen TU-Jahresbecher als Geschenk des Vereins "Alumni und Förderer der TUHH". Unter der Leitung von Gero Weiland begleitete die TUHH-Band FachBereichFürAnalogeFrequenzTechnik (FBFAFT) die Abschlussfeier musikalisch mit Trompete, Posaune und Saxophon.
Durch den Abend führten Alumni-Managerin Vera Lindenlaub und Dr. Dietmar Dunst, Leiter des Servicebereichs Lehre und Studium der TUHH.
---
TUHH - Public Relations Office