Costa Ricas Vizeministerin für Wissenschaft und Alumna der TUHH zu Besuch in Hamburg
25.10.2019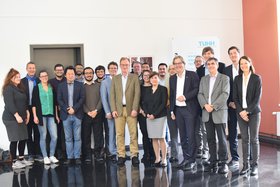 Dr. Paola Vega-Castillo, Costa Ricas Vizeministerin für Wissenschaft, Technologie und Telekommunikation und Alumna der TUHH, war zu Gast an der Technischen Universität Hamburg (TUHH) – ihrer alten Studienheimat. Momentan befindet sie sich auf Informationsbesuch in Deutschland und machte heute bei ihrer Alma Mater Halt, mit dem Ziel die bestehende Kooperation zwischen Costa Rica und der TUHH in Forschung und Lehre weiter zu fördern. Vega-Castillo ist Präsidentin des TUHH Alumni Chapters in Costa Rica, studierte im Master Microelectronics and Microsystems und promovierte 2006 in Mikroelektronik an der TUHH.
Während ihres Besuchs erhielt die TUHH-Absolventin Informationen und Eindrücke über den aktuellen Stand der gemeinsamen Forschungsarbeit vom Institute of Technical Biocatalysis sowie einen Überblick über die internationale Ausrichtung der TUHH. Zusätzliche Möglichkeiten der wissenschaftlichen Kooperation und des Austauschs zwischen Costa Rica und Hamburg wurden diskutiert. Dabei ging es unter anderem um das Austauschprogramm Erasmus+. In seiner Begrüßung fand TUHH-Präsident Ed Brinksma lobende Worte über die intensive internationale Pflege der Alumni-Beziehungen der TUHH zu Costa Rica. Zum Abschluss besuchte Vega-Castillo das Institut für Integrierte Schaltungen.
Die Technische Universität Hamburg und Costa Rica stehen in der Forschung seit Jahren miteinander in Verbindung. Insbesondere im Schwerpunkt Integrierte Biotechnologie und Prozesstechnik finden regelmäßig Kolloquien und Konferenzen in Costa Rica statt, die vom Bundesministerium für Bildung und Forschung gefördert werden. Auch zwischen dem Tecnológico de Costa Rica (TEC) und der TUHH besteht eine enge Zusammenarbeit, unter anderem mit dem Institut für Theoretische Elektrotechnik, dem Institut für Mikrosystemtechnik und dem Institut für Bioprozess- und Biosystemtechnik. Seit 2018 gibt es zudem ein Austauschprogramm zwischen je drei Studierende der TUHH und dem TEC über das Institut für Integrierte Schaltungen. Gefördert wird das Programm der Internationalen Studien- und Ausbildungspartnerschaften (ISAP) vom Deutschen Akademischen Austauschdienst (DAAD).
---
TUHH - Public Relations Office