TUHH-Professor Christian Ringle mit Emerald Literati Award 2019 ausgezeichnet
20.08.2019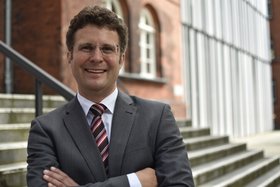 Professor Dr. Christian M. Ringle von der Technischen Universität Hamburg (TUHH) erhielt den Emerald Literati Award 2019 des Emerald Publishing Verlags. Mit einem leicht verständlichen Praxisbezug, einem innovativen Konzept und einer qualitativ hochwertigen Literaturrecherche überzeugte der Artikel "An assessment oft the use of partial least squares structural equation modeling (PLS-SEM) in hospitality research" eine Jury unterschiedlicher Fachzeitschriften.
Warum werden Hotels gebucht und wie zufrieden sind Kunden mit ihrer Wahl? Um diesen und weiteren Fragen schlüssig auf den Grund zu gehen, werden häufig partielle Strukturgleichungsmodelle (PLS-SEM) eingesetzt. Mit deren Hilfe werden Zusammenhänge mehrerer Faktoren auf eine Fragestellung hin untersucht. Ringle untersucht in seinem Artikel, wie diese Modelle in der Hotelforschung angewandt und wie diese künftig noch präziser einzusetzen sind. Da sich PLS-SEM in der Hotelforschung in einem frühen Anwendungsstadium befinden, können Fehlanwendungen so frühzeitig erkannt und verbessert werden.
Ringle forscht an der TUHH zu Themen Organisation, Human Ressource Management, Marketing, Strategisches Management und Quantitative Methoden. Seine Forschungsarbeit ist stark interdisziplinär ausgerichtet und findet auch Anwendung in der Medizin, der Psychologie und den Ingenieurwissenschaften.
---
TUHH - Public Relations Office
Franziska Trede
E-Mail: franziska.trede@tuhh.de
Phone: +49 40 428 78 3458