EU bewilligt Förderantrag der TUHH für Europäische Lehrplattform
05.08.2019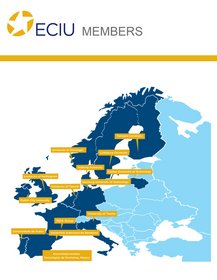 Die TUHH wird im Rahmen des Programms ERASMUS KA2 für zwei Jahre durch die EU gefördert. Gemeinsam mit vier weiteren Universitäten aus dem Netzwerk "European Consortium of Innovative Universities (ECIU)" wird die TUHH eine Plattform entwickeln, auf der Lehrende sich über innovative Lehre und Unterstützungsstrukturen für die Lehre informieren und austauschen können. Das Gesamtvolumen der Förderung beträgt rund 180.000 €. Projektstart für das so genannte "ColLab" ist der 2. Dezember 2019. Der Start für die Arbeit an der neuen Plattform findet im Rahmen einer Kick-off Veranstaltung an der TUHH im Dezember statt. Gäste aus den vier Partneruniversitäten University of Aveiro (Federführung), Kaunas University of Technology, University of Stavanger und University of Trento werden erwartet.

"Gute Lehre lebt natürlich von den Lehrenden, deren Persönlichkeit, Ideen und Erfahrungen, aber eben auch von Methoden, Didaktik, Infrastruktur und Unterstützungsstrukturen in der Verwaltung von Hochschulen. Hier lohnt es sich von anderen zu lernen und am gemeinsamen Austausch zu wachsen und sich weiter zu entwickeln", so Andrea Brose, Geschäftsführende Koordinatorin des Zentrums für Lehre und Lernen an der TUHH und Vorstand der Lenkungsgruppe "Innovation in Teaching and Learning" der ECIU. Die Förderung sei "ein wichtiger Anschub für die europäische Vernetzung und Digitalisierung von Lehre."


Über die ECIU
Die ECIU European Consortium of Innovative Universities ist ein Verbund europäischer Universitäten, der sich seit 1997 zum Ziel gesetzt hat innovative Lehre in engem Austausch voran zu treiben. Mitte 2019 erhielt sie den Auftrag zur Bildung einer Europäischen Universität. Diese soll durch Mikro-Kurse neue Bildungswege, orientiert an den Bedarfen von Gesellschaft und Wirtschaft, ermöglichen.

Zum Netzwerk gehören: Aalborg University, Denmark. Universidade de Aveiro, Portugal. Universitat Autònoma de Barcelona, Spain. Dublin City University, Ireland. Hamburg University of Technology, Germany. INSA Toulouse, France. Kaunas University of Technology, Lithuania. Linköping University, Sweden. University of Nottingham, UK. University of Stavanger, Norway. University of Trento, Italy. Tampere University, Finland. University of Twente, the Netherlands. Tecnológico de Monterrey, Mexico.
---
TUHH - Public Relations Office
Jasmine Ait-Djoudi
E-Mail: pressestelle@tuhh.de
Phone: +49 40 428 78 3458