Nordisch optimistisch in die Zukunft: TUHH feiert ihre Absolventinnen und Absolventen
29.06.2019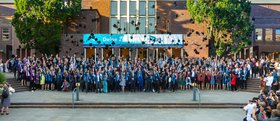 In Hamburg sagt man Tschüss: 365 Absolventinnen und Absolventen der Technischen Universität Hamburg (TUHH) wurden am 28. Juni 2019 im Rahmen der 26. Absolventenfeier verabschiedet und nahmen persönlich ihre Schmuckurkunden entgegen. Die Feierstunde fand mit über 1200 Gästen in der Friedrich-Ebert-Halle statt.
In akademischer Kleidung, mit traditionellen Schärpen und Hüten, zogen die Absolventinnen und Absolventen aus 23 Ländern unter anhaltendem Applaus ihrer Familien und Freunde in die Harburger Friedrich-Ebert-Halle ein. Dort nahmen sie ihre Urkunden zum Bachelor of Science, Master of Science und Doktortitel in den Ingenieurwissenschaften entgegen. Vom 1.9.2018 bis 28.2.2019 haben insgesamt 637 Studierende, davon 60 Doktorandinnen und Doktoranden, ihren Abschluss an der TUHH gemacht.
TUHH-Präsident Ed Brinksma begrüßte das Auditorium und beglückwünschte die Studierenden zu ihren Leistungen. Er stehe hier mit Stolz und Freude, dies sei eine der schönsten Aufgaben eines Präsidenten. Brinksma wies auf die Herausforderungen für Universitäten und die jungen Berufsanfängerinnen und Berufsanfänger hin: "Mit ihrem Studium an der TUHH wurden sie zu Gestalterinnen und Gestaltern der Zukunft ausgebildet. Zeigen sie der Welt, dass Probleme da sind, um gelöst zu werden".
Festredner Prof. Dr. Sascha Spoun, Präsident der Leuphana Universität Lüneburg, bestärkte die Absolventinnen und Absolventen in seinem Vortrag ihren Weg zu gehen: "Sie sind Revolutionärinnen und Revolutionäre unserer Zukunft.", so Spoun. "Für technischen Fortschritt braucht es Menschen wie sie, die sich Zeit für Innovationen nehmen. Es warten spannende Aufgaben auf sie".
Stellvertretend für alle Studierende sprach Lucas Sens aus dem Dekanat Verfahrenstechnik, Energie- und Umwelttechnik ein Grußwort an die ehemaligen Kommilitoninnen und Kommilitonen und Gäste. Er ließ die Studienzeit in einem privaten Rückblick Revue passieren und rief auf, mit Verantwortung die Zukunft aktiv zu gestalten.
Höhepunkt der Veranstaltung war die Überreichung der Urkunden an die 365 Hauptakteure des Abends. Jede Absolventin und jeder Absolvent wurde namentlich auf die Bühne gebeten und von den jeweiligen Dekanen und Prüfungsausschussvorsitzenden sowie der Fest-Organisatorin Bärbel Müller mit der Schmuckurkunde und einem Geschenk des Vereins "Alumni und Förderer der TUHH" geehrt. Abgerundet wurde der Abend durch den musikalischen Beitrag von SingING unter der Leitung von Janis Brucker.
Durch den Abend führten Alumni-Koordinatorin Vera Lindenlaub und Dr. Dietmar Dunst, Leiter des Servicebereichs Lehre und Studium der TUHH.
Siehe auch: www.tuhh.de
---
TUHH - Public Relations Office
Franziska Trede
E-Mail: franziska.trede@tuhh.de
Phone: +49 40 428 78 3458