Der Lehrbuchpreis 2019 geht an TUHH-Professor Christian Ringle
14.06.2019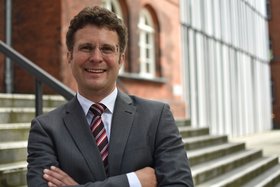 Professor Dr. Christian M. Ringle von der Technischen Universität Hamburg (TUHH) erhielt vom Verband der Hochschullehrer für Betriebswirtschaft e.V. den Lehrbuchpreis 2019. Mit über 200 Zitationen, Übersetzungen in drei Sprachen und einem leicht verständlichen Praxisbezug überzeugte das im Jahr 2017 erstmals veröffentlichte Lehrbuch "Advanced Issues in Partial Least Squares Structural Equation Modeling" eine Fachjury, bestehend aus Professorinnen und Professoren des Verbandes.
Wie zufrieden sind Kunden oder Mitarbeiter und warum? Was beeinflusst Kaufentscheidungen? Wie werden neue Technologien und Innovationen von der Gesellschaft angenommen? In dem Lehrbuch erklärt Ringle neue Methoden und komplexe Verfahren, um diesen und ähnlichen Fragen schlüssig auf den Grund zu gehen. Das Werk zeichnet sich durch detaillierte Beschreibungen und Illustrationen sowie durch seine Nähe zu praktischen Beispielen aus. Die Verwendung einer Case Study und der Softwareapplikation SmartPLS ermöglicht zudem den Einsatz der Methoden in der Praxis. Neben einer hohen Verständlichkeit des Lehrbuches hob die Fachjury besonders den Fokus auf zentrale Inhalte, einen klaren Aufbau sowie nachvollziehbare Anwendungsbeispiele hervor.
Professor Dr. Christian M. Ringle forscht an der TUHH zu Themen Organisation, Human Ressource Management, Marketing, Strategisches Management und Quantitative Methoden. Seine Forschungsarbeit ist stark interdisziplinär ausgerichtet und findet auch Anwendung in der Medizin, der Psychologie und den Ingenieurwissenschaften. Mitautoren des Lehrbuchs "Advanced Issues in Partial Least Squares Structural Equation Modeling" sind Prof. Dr. Marko Sarstedt von der Otto-von-Guericke Universität Magdeburg, Prof. Dr. Joseph F. Hair von der University of South Alabama sowie Prof. Dr. Siegfried P. Gudergan von der University of Waikato.
---
TUHH - Public Relations Office
Franziska Trede
E-Mail: franziska.trede@tuhh.de
Phone: +49 40 428 78 3458