Kick-off AERoGELS COST Projekt 18125 der TUHH
13.05.2019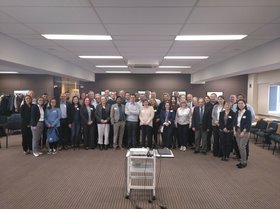 Im April fand das Kick-off-Treffen zum Projekt "Advanced Engineering and Research of Aerogels for Environment and Life Sciences" - kurz AERoGELS statt. 36 Länder hatten ihre Teilnahme an dem vom EU-Förderprogramm Horizont 2020 finanzierten COST Projekt bestätigt, und 42 Mitglieder des Management-Komitees nahmen an der Sitzung zum Projekts AERoGELS teil.
Im Verlauf des Meetings wurden der Vorsitzende, die stellvertretende Vorsitzende, der Leiter der Wissenschaftskommunikation, der STSM-Koordinator, der Leiter der ITC-Konferenz und die Leiter der Arbeitsgruppen gewählt, um die Hauptgeschäftsführung zu bilden. Darüber hinaus wurden kurz- und langfristige Pläne erstellt, um die Aktivitäten des Projekts (AERoGELS) zu verwirklichen. Der Vorsitzende ist Prof. Carlos A Garcia Gonzalez von der Universidad de Santiago de Compostela, stellvertretende Vorsitzende ist Prof. Irina Smirnova, Leiterin des Instituts für Thermische Verfahrenstechnik an der Technischen Universität Hamburg (TUHH), welche ebenfalls das EU Projekt NanoHybrids koordinierte.
Da zahlreiche Mitglieder des NanoHybrids-Teams an AERoGELS beteiligt sind, werden deren gemeinsame Anstrengungen aus dem NanoHybrids Projekt fortgesetzt, Wissen und Innovation rund um Aerogele voranzutreiben.
AERoGELS
AERoGELS soll das Wissen über Forschung und Technologie von Aerogelen auf europäischer Ebene, auf akademischer Ebene, aus der Industrie und Regulierungsexperten zusammenführen.
Das volle Potenzial dieser speziellen Klasse nanostrukturierter mesoporöser Materialien ist für verschiedene weitere Anwendungen noch nicht ausgeschöpft. Im Rahmen des Projektes wird der Einsatz von Aerogelen speziell im Zusammenhang mit Anwendungen in den Bereichen Umwelt und Biowissenschaften untersucht, wobei das Wissen und die Bemühungen der renommiertesten Experten auf dem Gebiet der Spitzentechnologie der Aerogele, der fortgeschrittenen Materialcharakterisierung sowie der biomedizinischen und Umweltforschung gebündelt werden.
Aerogele werden unter dem Gesichtspunkt der Materialleistung, aber auch im Hinblick auf Gesundheits- und Umweltauswirkungen bewertet. Das AERoGELS COST Projekt 18125 wird ein Forum für die Verbreitung von Wissen in der Gesellschaft und für die Ausbildung junger europäischer Forscher in Forschung, Innovation und unternehmerischen Fähigkeiten durch Fachschulen, Veröffentlichungen und den Austausch von wissenschaftlichen Aufenthalten schaffen.
Von den im Rahmen des Projektes zu fördernden interdisziplinären Kooperationen wird erwartet, dass sie zu innovativen und integrierten Lösungen für Umwelt- und Biowissenschaften führen. Langfristig zielt AERoGELS darauf ab, Aerogel-Technologien zu entwickeln, die das Wohlergehen der europäischen Bürger verbessern und zu saubereren und intelligenteren Produktionen in Europa führen können.
Text: Baldur Schroeter
---
TUHH - Public Relations Office
Jasmine Ait-Djoudi
E-Mail: pressestelle@tuhh.de
Phone: +49 40 428 78 3458