NIT vergibt erstmals das NIT Innovation Scholarship
13.02.2019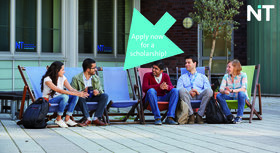 Hamburg, 06.02.2019 – Das NIT Northern Institute of Technology Management vergibt zum ersten Mal ein Stipendium und führt das NIT Innovation Scholarship ein. Das Stipendium über 7.000,- Euro soll zukünftigen Studierenden zu Gute kommen, die das Masterstudium im Oktober 2019 in Technology Management am NIT beginnen werden.
Mit dem Stipendium möchte das NIT Studierende fördern, die eine innovative Denkweise, ein hohes Maß an sozialer Verantwortung und beste akademische Leistungen zeigen. Interessierte Bewerber_innen sollten einen Bachelorabschluss in Ingenieurwesen, Technik, Informatik, Naturwissenschaften oder in einem wirtschaftswissenschaftlichen Studiengang erreicht haben und sehr gute Englischkenntnisse (C1 Niveau) haben. Dabei kann das Stipendium auch unter mehreren qualifizierten Bewerbern aufgeteilt werden.
Interessierte Studierende für das Stipendium sollten die Auswahlkommission überzeugen, indem sie ihre Eignung im "Statement of Purpose" im Rahmen der Bewerbung für den Masterstudiengang beschreiben. Für die Bewerbung werden zusätzlich ein entsprechendes Abschlusszeugnis aus dem Bachelor, ein Lebenslauf, eine offizielle Erklärung des Universitätsnotensystems, zwei Empfehlungsschreiben und ein Nachweis über sehr gute Englischkenntnisse benötigt. Vorteilhaft für die Bewerbung sind zusätzliche Arbeitszeugnisse. Nach Sichtung der Bewerbungen erfolgen persönliche Interviews mit dem Zulassungskomitee des NIT.
Das NIT legt Wert auf kleine Studiengruppen mit 30-40 Studierenden pro Jahrgang, Daher ist der Studiengang in Technology Management zulassungsbeschränkt. Die offizielle Bewerbungsfrist für den Master ist der 15. Juli 2019, es wird jedoch empfohlen sich so früh wie möglich für das NIT Innovation Scholarship zu bewerben.
Über das NIT
Am NIT Northern Institute of Technology Management lernen Talente aus aller Welt, Managementaufgaben verantwortungsvoll zu übernehmen. Mit seinem Masterprogramm in Technology Management (M. A./MBA) bietet das NIT ein englischsprachiges Studium an, das auch in Kombination mit einem M. Sc. in Ingenieurwissenschaften an der Technischen Universität Hamburg als Doppelmaster absolviert werden kann. Das NIT wurde 1998 von 40 Professoren der TUHH als gemeinnützige GmbH gegründet. Es wird unter anderem von verschiedenen Stiftungen und Unternehmen finanziell unterstützt. Das NIT befindet sich auf dem Campus der TUHH im Hamburger Süden.
Pressekontakt
NIT Northern Institute of Technology Management
Sophie Janik
Manager PR & Marketing
Text: Sophie Janik
---
TUHH - Public Relations Office