NIT-Masterprogramm weiterentwickelt und erfolgreich akkreditiert
08.01.2019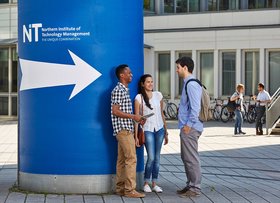 Das Northern Institute of Technology Management NIT hat sein Masterstudium in Technology Management inhaltlich und strukturell weiterentwickelt. Nun hat die FIBAA (Foundation for International Business Administration Accreditation) und der deutsche Akkreditierungsrat das Studium erfolgreich akkreditiert und es darf weiterhin deren Qualitätssiegel tragen.
Das Masterstudium wurde durch ein Gutachterteam der FIBAA, bestehend aus Professoren und Hochschulreferenten, gründlich geprüft. Das NIT konnte dabei mit seinem innovativen Konzept aus projekt- und praxisbezogenem Lernen überzeugen. Die Gutachter bewerteten insbesondere die Integration von Theorie und Praxis, die Interdisziplinarität und das didaktische Konzept als überdurchschnittlich.
Besonders die Employability des Studiengangs wurde hervorgehoben: "Im Ergebnis zieht sich Berufsbefähigung als 'roter Faden' erkennbar durch alle Studienabschnitte und eingesetzte Methoden", so die FIBAA. Ebenfalls wurden die qualifizierten Gastreferenten und Tutoren mit internationaler Ausrichtung im Lehrbetrieb gelobt, die eine intensive Betreuung der Studierende gewährleisten und den persönlichen Austausch fördern.
Auch das Curriculum wurde angepasst und spiegelt die agile, digitale Arbeitswelt wider. Im Zent-rum des Studiums steht der Bereich "MyProject", in dem Studierende ein Innovationsvorhaben oder ihre eigene Start-up Idee verfolgen und dies in ihrer Masterarbeit ausentwickeln. Ebenfalls machen Module aus den Bereichen klassisches Management, Selbstentwicklung, Innovationsmanagement, Unternehmensgründung und Digitalisierung die Studierenden mit den unternehmerischen Herausforderungen der Zukunft vertraut.
Mit dem Prozess gibt es nun auch eine Neuerung: Ab September 2019 ist es erstmals möglich, das Masterstudium mit 120 Kreditpunkten abzuschließen. Bisher war das Programm auf 90 Kreditpunkte ausgelegt. Zudem eröffnet das NIT zukünftig neben Ingenieur_innen und Naturwissenschaftler_innen auch Absolvent_innen aus wirtschaftswissenschaftlichen Studiengängen den Zugang.
Über das NIT
Am NIT Northern Institute of Technology Management lernen Talente aus aller Welt, Managementaufgaben verantwortungsvoll zu übernehmen. Mit seinem Masterprogramm in Technology Management (M. A./MBA) bietet das NIT ein englischsprachiges Studium an, das auch in Kombination mit einem M. Sc. in Ingenieurwissenschaften an der Technischen Universität Hamburg als Doppelmaster absolviert werden kann. Das NIT wurde 1998 von 40 Professoren der TUHH als gemeinnützige GmbH gegründet. Es wird unter anderem von verschiedenen Stiftungen und Unternehmen finanziell unterstützt. Das NIT befindet sich auf dem Campus der TUHH im Hamburger Süden.
D: https://www.nithh.de/de/studium/technologiemanagement/
Engl.: https://www.nithh.de/study/technology-management/
Doppelmaster Programm NIT + TUHH
D.: https://www.nithh.de/de/studium/technologiemanagement/doppelmaster/
Engl.: https://www.nithh.de/study/technology-management/double-master/
Pressekontakt
NIT Northern Institute of Technology Management
Sophie Janik
Manager PR & Marketing
Kasernenstr. 12
TUHH Campus, building F
21073 Hamburg
Tel.: +49 40 42878 4217
Fax: +49 40 42878 2487
Amtsgericht Hamburg HRB 69206
Text: Sophie Janik
---
TUHH - Public Relations Office
Jasmine Ait-Djoudi
E-Mail: pressestelle@tuhh.de
Phone: +49 40 428 78 3458