Best Paper Award an TUHH-Doktorand
19.12.2018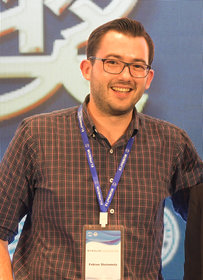 Fabian Steinmetz vom Institut smartPORT der Technischen Universität Hamburg (TUHH) ist mit dem Best Paper Award auf der 13th ACM International Conference on Underwater Networks & Systems – kurz ACM WUWNet – ausgezeichnet worden. Die Jury hob damit die hohe Qualität der wissenschaftlichen Arbeit hervor. Sein Beitrag "A Practical Guide to Chirp Spread Spectrum for Acoustic Underwater Communication in Shallow Waters" fertigte Steinmetz mit seinen Ko-Autoren von der TUHH Jan Heitmann und Christian Renner an. Der Preis ging 2018 an zwei Wissenschaftler.
In seiner Arbeit untersucht Fabian Steinmetz die Eigenschaften von Chirp-Spreizverfahren und deren Anwendbarkeit und Parametrierung für die akustische Unterwasserkommunikation. Sein Beitrag wurde im Rahmen des vom Bundesministerium für Wirtschaft und Energie und EraNet-Cofund geförderten Projektes RoboVaaS (Robotic Vessels-as-a-Service) verfasst. Die theoretisch fundierte Arbeit überzeugte die Jury auch wegen ihres praktischen Nutzens, der durch Experimente im Segelhafen Finkenwerder und dem Harburger Channel untermauert wurde.
Die International Conference on UnderWater Networks and Systems (WUWNet) fand vom 3. bis 5. Dezember 2018 in Shenzhen, China, statt. Die WUWNet ist eine renommierte Konferenz, die Forscherinnen und Forscher im Bereich der Unterwassernetze und -systeme jährlich zusammenführt, um den aktuellen Stand der Forschung zu diskutieren und neue Ergebnisse zu präsentieren.
---
TUHH - Public Relations Office
Jasmine Ait-Djoudi
E-Mail: pressestelle@tuhh.de
Phone: +49 40 428 78 3458