Die Zukunft nur einen Hutwurf entfernt: TUHH gratuliert ihren Absolventinnen und Absolventen
24.11.2018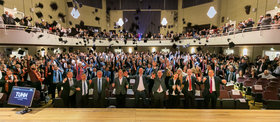 Bereits zum 25. Mal wurden am 23. November mehr als 300 Absolventinnen und Absolventen der Technischen Universität Hamburg (TUHH) persönlich in einer feierlichen Verabschiedung geehrt und erhielten ihre Schmuckurkunden. Gefeiert wurden die wissenschaftlichen Abschlüsse mit über 1.100 Gästen in der Hamburger Friedrich-Ebert-Halle.
Mit Schärpe und Hut in einen neuen Lebensabschnitt: Unter lautem Applaus von Familien und Freunden zogen die Nachwuchs-Akademiker und Akademikerinnen aus insgesamt 20 Ländern mit traditionellen Roben in den Festsaal ein. Dort nahmen sie ihre Urkunden zum Bachelor of Science, Master of Science und zu ihren Doktortitel in den Ingenieurwissenschaften entgegen. Insgesamt 560 Absolventinnen und Absolventen, davon 45 Doktorandinnen und Doktoranden haben vom 1. März bis zum 31. August 2018, ihren Abschluss an der TUHH gemacht.
Sönke Knutzen, TUHH-Vizepräsident Lehre, begrüßte die Gäste und gratulierte den Studierenden zu ihren Leistungen: "Als Absolventinnen und Absolventen der TUHH haben Sie sich einen Werkzeugkasten voller Fähigkeiten geschaffen, auf den Sie stolz seien können. Mit diesem Handwerkszeug sind Sie keine Zukunftserdulder sondern Zukunftsgestalter".
Festredner war in diesem Jahr Dr. Lothar Behlau, der 1982 selbst zu den ersten fünf Studierenden an der TUHH gehörte. Mit der Matrikelnummer 1 kam der ehemalige Verfahrenstechnik-Student vor 40 Jahren an die TUHH und ist jetzt Leiter der Abteilung Agenda 2022 der Fraunhofer Gesellschaft. Mit seiner persönlichen Verbindung zur TUHH ermutigte er die Absolventinnen und Absolventen mit ihrem Wissen und Tatendrang die Berufswelt zu erobern: "Als Teil der TUHH sind Sie Pioniere des Wandels. Ihnen stehen alle Optionen offen die Gesellschaft zu verändern".
TUHH-Absolvent Oliver Constantin Eichmann richtete stellvertretend für seine ehemaligen Kommilitonen ein Grußwort an alle Anwesenden. Er ließ die gemeinsame Studienzeit noch einmal mit Witz und Esprit Revue passieren, und bedankte sich für die tatkräftige Unterstützung von Freunden, Familie und TUHH-Angehörigen.
Highlight der Absolventenfeier war die Überreichung der Urkunden an die 304 Hauptpersonen des Abends. Jeder Absolvent wurde namentlich auf die Bühne gebeten und erhielt von den jeweiligen Dekanen und Prüfungsausschussvorsitzenden seine Schmuckurkunde. Die Fest-Organisatorin Bärbel Müller überreichte zusätzlich ein Geschenk des Vereins "Alumni und Förderer der TUHH". Musikalisch begleitet wurde der Abend von der TUHH-Band FachBereichFürAnalogeFrequenzTechnik – kurz FBFAFT unter der Leitung von Gero Weiland.
Durch den Abend führten Alumni-Koordinatorin Vera Lindenlaub und Dr. Dietmar Dunst, Leiter des Servicebereichs Lehre und Studium der TUHH.
Interview mit Dr. Lothar Behlau: https://intranet.tuhh.de/aktuell/pressemitteilung_einzeln.php
---
TUHH - Public Relations Office
Franziska Trede
E-Mail: franziska.trede@tuhh.de
Phone: +49 40 428 78 3458