Alexander von Humboldt-Stipendiat Lei Wang zu Gast an der TUHH
24.10.2018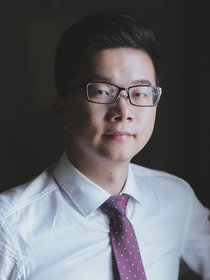 Antennenforscher in ihrer Arbeit für die wirkungsvollste Kommunikation: Seit November 2017 forscht Doktor Lei Wang als Alexander von Humboldt-Stipendiat an der Technischen Universität Hamburg (TUHH). Am Institut für Theoretische Elektrotechnik arbeitet der aus China stammende Wissenschaftler für zwei Jahre an der Optimierung elektromagnetischer Strahlung von Handys und Basisstationen. Dr. Wang überzeugte mit seinem durchdachten Konzept ein Auswahlgremium aus zahlreichen fachspezifischen Wissenschaftlern. Weltweit werden jährlich 500 Humboldt-Forschungsstipendien für Postdoktoranden vergeben.
Dr. Wang beschäftigt sich in seiner Forschung an der TUHH mit elektromagnetischen Feldern und Wellen, die bei der Übertragung von Daten auftreten. Er testet dafür Antennen für 5G-Anwendungen, die fünfte Generation drahtloser Breitband-Kommunikationstechnologie. Mit der 5G-Kommunikation sollen höhere Geschwindigkeiten und eine zielgenauere Übertragung von Daten gewährleistet werden. Aufgabe des Forschers ist es, die elektromagnetische Strahlung zu optimieren, und zwar hinsichtlich der größt möglichen Effizienz: "Ich hoffe, dass künftige Geräte weniger Energie verbrauchen und zielgerichteter funktionieren. Dafür möchte ich spezielle Antennenarrays generieren. Das verstärkt die nutzbaren Signale und gleichzeitig bekommt der Körper weniger Streustrahlung ab", erklärt Dr. Wang sein Forschungsvorhaben.
Dr. Wang studierte Angewandte Physik an der Nanjing University of Posts and Telecommunications in China. Dann absolvierte er seinen Ph.D.-Abschluss an der Southeast University im Bereich der elektromagnetischen Feld- und Mikrowellentechnologie. Bereits 2014 zog es den Forscher nach Europa, wo er in der Schweiz und Schweden als wissenschaftlicher Mitarbeiter tätig war.
Für ein Alexander von Humboldt-Stipendium können sich überdurchschnittlich begabte Doktoranden aller Nationen und unterschiedlicher Fachgebiete bewerben, deren Promotion nicht länger als vier Jahre zurückliegt. Über das Stipendium haben Postdoktoranden die Möglichkeit, ein selbst gewähltes, langfristiges Forschungsvorhaben von 6 bis 24 Monaten in Kooperation mit einem wissenschaftlichen Gastgeber an einer Forschungseinrichtung in Deutschland durchzuführen. Stipendiaten erhalten monatlich 2.650 Euro.
---
TUHH - Public Relations Office
Franziska Trede
E-Mail: franziska.trede@tuhh.de
Phone: +49 40 428 78 3458