TUHH-Wissenschaftler werden auf der 11th International Conference on Distillation and Absorption ausgezeichnet
05.10.2018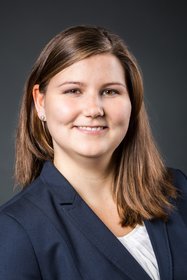 Bei der diesjährigen "11th International Conference on Distillation and Absorption" gingen unter 95 eingereichten Postern die Jurypreise "Best Poster Award – Reactive and Hybrid separations" und "Best Poster - Runner Up" an Doktorandin Laura-Selin Harding und Prof. Dr.-Ing. Georg Fieg vom Institut für Prozess- und Anlagentechnik der Technischen Universität Hamburg (TUHH). Auf der alle vier Jahre stattfindenden Veranstaltung diskutieren internationale Vertreterinnen und Vertreter aus Industrie und Forschung über die Themenschwerpunkte Destillation und Absorption. Dieses Jahr fand die Konferenz vom 16. bis 19. September in Florenz statt.
Weniger ist mehr: Unter dem Titel "Energy Minimum Design and Systematic Analysis of the Reactive Dividing Wall Column" stellt das Poster der TUHH-Wissenschaftler den verfahrenstechnischen Apparat der reaktiven Trennwandkolonne vor. Der innovative Apparat kann zur selben Zeit chemische Reaktionen sowie thermische Trennungen vornehmen und so im Vergleich zu aktuellen Prozessen in der Industrie Energie, Ressourcen und Investitionen einsparen. Neben der Methode zur energieminimalen Auslegung der reaktiven Trennwandkolonne überzeugten Laura-Selin Harding und Prof. Dr.-Ing. Goerg Fieg die Jury auch mit den vielfältigen Anwendungsbereichen der Apparatur.
Die Konferenzreihe "International Conference on Distillation and Absorption" gehört zu den führenden internationalen Foren für Forschung und Entwicklung im Bereich der Destillation und Absorption. Organisiert wurde die Konferenz von der chemischen Ingenieursgesellschaft AIDIC in Italien in enger Zusammenarbeit mit der Europäischen Föderation des Chemieingenieurwesens (EFCE).
---
TUHH - Public Relations Office
Franziska Trede
E-Mail: franziska.trede@tuhh.de
Phone: +49 40 428 78 3458