Die Welt zu Gast an der TUHH: Internationales Kolloquium "Irregular Engineering Oscillations and Signal Processing"
19.09.2018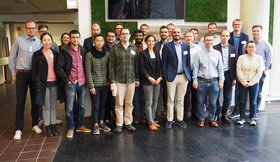 An der Technischen Universität Hamburg (TUHH) trafen sich 35 Wissenschaftlerinnen und Wissenschaftler sowie Vertreterinnen und Vertreter führender Industrieunternehmen aus Europa, Australien, Asien und Amerika auf dem Kolloquium "Irregular Engineering Oscillations and Signal Processing". Ziel des Treffens war der interdisziplinäre Austausch zu aktuellen Fragen der Dynamik von Systemen in Natur und Technik.
Was passiert wenn Kraftfahrzeuge sich fortbewegen, Schiffe auf See treiben oder wenn Küstenschutzbauwerke starkem Wind standhalten müssen? Mit Hilfe der Komplexen Dynamik können diese Verhaltensweisen, die auch in der Wetter- und Klimaforschung, der Geophysik sowie in der Medizin vorkommen, untersucht werden. Auch in den Ingenieurswissenschaften wird das Prinzip der Komplexen Dynamik verstärkt diskutiert, um neue Erkenntnisse in den Bereichen der Automobilindustrie, der Luft- und Raumfahrt und des Energiesektors zu erhalten. Das Kolloquium an der TUHH setzte in diesem Jahr den Fokus auf Querbezüge in den Informations- und Datenwissenschaften, den Natur- und Lebenswissenschaften und den klassischen Disziplinen des Ingenieurwesens.
Die Veranstaltung führte zu zahlreichen künftigen Kooperationen und neuen Forschungsprojekten und wurde vom TUHH-Institut für Strukturdynamik zusammen mit dem Centre for Computational Intelligence Systems der School of Software der University of Technology Sydney sowie der Dynamics Section des Mechanical Engineering Departments des Imperial College London organisiert.
---
TUHH - Public Relations Office
Franziska Trede
E-Mail: franziska.trede@tuhh.de
Phone: +49 40 428 78 3458