Von Finnland nach Hamburg: Ulla Saari ist mit dem ECIU Research Mobility Fund zu Gast an der TUHH
31.08.2018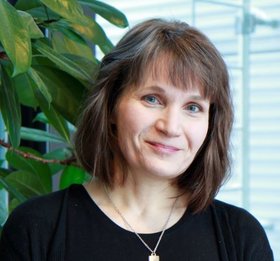 Frau Dr. Ulla Saari von der Tampere University of Technology in Finnland ist für ein halbes Jahr Gastwissenschaftlerin am Institut für Personalwirtschaft und Arbeitsorganisation an der Technischen Universität Hamburg (TUHH). Ulla Saari ist die erste Wissenschaftlerin an der TUHH, die den ECIU (European Consortium of Innovative Universities) Research Mobility Fund in Höhe von 5.000 Euro nutzt. Mit dem Fond fördert die ECIU, ein enger Zusammenschluss forschungsstarker Universitäten weltweit, die Kooperation und den wissenschaftlichen Austausch zwischen den ECIU Mitgliedsuniversitäten. Ziel ist die Stärkung der Forschung in den Bereichen Wissenschaft, Technologie und Innovation.
"Der Austausch ist eine tolle Möglichkeit, um internationale Kontakte aufzubauen und Forschung intensiv zu vernetzen", meint Dr. Ulla Saari vom Institut für Industrie- und Datenmanagement. Zusammen mit Prof. Dr. Christian M. Ringle und Studierenden der TUHH forscht und arbeitet die Wissenschaftlerin für fünf Monate mit dem statistischen Software Tool SmartPLS (www.smartpls.com). SmartPLS ermöglicht die Abbildung und Analyse von varianz-basierten Strukturgleichungsmodellen mithilfe einer intuitiven grafischen Benutzeroberfläche. Die Software möchte die Dozentin auch an der Tampere Universität in Finnland etablieren: "Die Nutzung von Methoden und Software führt zu Kooperationen in gemeinsamen Forschungsprojekten", erklärt die Wissenschaftlerin und nimmt damit auch Bezug auf den beidseitigen Gewinn aus dem ECIU Research Mobility Fund. Geplant ist bereits ein Lehraufenthalt von Prof. Dr. Christian M. Ringle an der Tampere University of Technology, um seinen Methodenapparat vorzustellen.
Die ECIU ist das weltweit führende Konsortium forschungsstarker Universitäten mit Fokus auf Innovation, Kreativität und Gesellschaft. In enger Zusammenarbeit der dreizehn internationalen Mitgliedsuniversitäten wird das Ziel verfolgt, eine wissensbasierte Wirtschaft voranzutreiben und den Austausch von Studierenden sowie Forschenden zu fördern. 1997 wurde die ECIU von der TUHH und neun weiteren Universitäten gegründet.
Weitere Informationen unter https://www.eciu.org/for-staff/research-mobility-fund
---
TUHH - Public Relations Office
Franziska Trede
E-Mail: franziska.trede@tuhh.de
Phone: +49 40 428 78 3458