NIT ruft Hauke Trinks-Preis aus
18.07.2018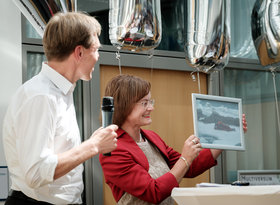 Erstmals vergibt das NIT Northern Institute of Technology Management den Hauke Trinks-Preis und würdigt damit das Ansehen seines Gründungsvaters, Hauke Trinks. Der Preis richtet sich an Bachelor-Studierende der Hamburger Hochschulen aus dem MINT-Bereich, die bei ihrer Abschlussarbeit hervorragende Leistungen erbracht, ein hohes Maß an wissenschaftlicher Neugier bewiesen sowie originelle und interdisziplinäre Ansätze zum wissenschaftlichen Erkenntnisgewinn verfolgt haben. Die Bachelorarbeit muss im Zeitraum vom 01.10.2017 bis zum 30.09.2018 eingereicht worden sein.
Bis zum 31.08.2018 können sich Studierende für den Hauke Trinks-Preis bewerben. Neben einem ausgefüllten Bewerbungsformular sind ein Exposé der Arbeit sowie ein maximal 90-sekündiges Video erforderlich, das die Zielsetzung, Ergebnisse und den innovativen Charakter widerspiegelt. Zusätzlich wird ein Beurteilungsformular des betreuenden Hochschullehrenden benötigt. Ein Auswahlgremium, bestehend aus Prof. Dr.-Ing. Otto von Estorff (NIT-Präsident), Verena Fritzsche (NIT-Geschäftsführerin), Dr. Stephan Scheuner (NIT Programm Team), Dr. Ole Trinks (Sohn von Prof. Dr. Hauke Trinks) sowie einem Vertreter/einer Vertreterin der NIT-Studierendenschaft, entscheidet über die Preisträger. Der erste Preis ist mit 1.000 Euro dotiert, der zweite Preis mit 600 Euro und der dritte Preis mit 400 Euro. Die Verleihung des Preises findet im Rahmen der feierlichen Graduation Ceremony der NIT Class 18 am 28.09.2018 im Audimax der Technischen Universität Hamburg (TUHH) statt.
Prof. Dr. Hauke Trinks gründete im Jahr 1998 das Northern Institute of Technology (heute NIT Northern Institute of Technology Management) und setzte damit einen Meilenstein in der Ausbildung junger Studierender. Als seinerzeit amtierender Präsident der Technischen Universität Hamburg (TUHH) hat er früh erkannt, dass eine rein technische Ausbildung nicht mehr ausreichend ist, um sich dem hohen globalen Wettbewerbsdruck erfolgreich entgegen zustellen. Am NIT werden Studierende für diese Herausforderungen ausgebildet und lernen, Managementaufgaben verantwortungsvoll zu übernehmen.
Hauke Trinks selbst war durch und durch Forscher und Wissenschaftler, der mit seinen Ideen und Zukunftsdenken höchste Wertschätzung genoss. Mit seinem Wissensdurst hat er neue wissenschaftliche Erkenntnisse errungen und scheute dafür unter anderem monatelanges Forschen im Eis von Spitzbergen nicht. Mit dem Hauke Trinks-Preis will das NIT das Vermächtnis seines Gründers ehren und junge Menschen auf das Leben und Wirken von Hauke Trinks aufmerksam machen.
Mehr Informationen finden Sie hier: https://www.nithh.de/de/n … r-den-hauke-trinks-preis/
Über das NIT
Das NIT ist eine private Bildungseinrichtung und wurde im Jahr 1998 von 40 Professoren der Technischen Universität Hamburg (TUHH) als gemeinnützige GmbH gegründet. Es wird unter anderem von verschiedenen Stiftungen und Unternehmen finanziell unterstützt. Das NIT befindet sich auf dem Campus der TUHH im Hamburger Süden.
Pressekontakt
NIT Northern Institute of Technology Management
Sophie Janik
Manager PR & Marketing
Kasernenstr. 12
TUHH Campus, building F
21073 Hamburg
sophie.janik@nithh.de
Tel.: +49 40 42878 4217
Fax: +49 40 42878 2487
www.nithh.de
Text: Sophie Janik
---
TUHH - Public Relations Office
Jasmine Ait-Djoudi
E-Mail: pressestelle@tuhh.de
Phone: +49 40 428 78 3458